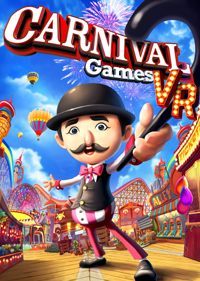 Carnival Games VR is the next installment of the Carnival Games series, this time designed for VR devices (HTC VIVE, PlayStation VR and Oculus Rift). As in the case of the previous installment, we are dealing with a collection of several mini-games. The PC and PS4 versions were developed by Cat Daddy Games studio, known to fans of digital entertainment from such games as MyNBA2K16, Let's Cheer and previous games from the Carnival Games series.
Mechanics
Fun in Carnival Games VR is held in twelve arcade competitions - usually throwing various items and shooting at targets - where we win a variety of prizes. Developers have prepared the following modes:
Alley Ball - throwing the ball into the holes at the end of the avenue;
Ring Toss - throwing the rim on the pins that protrude from the ground;
Golden Arm - throwing balls into golden jugs to knock them down;
Down The Stretch - rolling the balls towards the holes at the end of the ramp;
Pop Darts - throwing darts at balloons;
Shark Tank - shooting moving targets to drop them into a water tank;
Funnel Cake Stacker - catching funnel cake (popular in the USA, usually consumed at sports events or carnivals);
Swish - basketball;
Haunted House - shooting at jumping targets in a haunted house;
Fast Pitch - catching balls thrown in different ways;
Shooting Gallery - shooting at designated targets;
Climbing Wall - climbing the wall.
In addition to taking part in the seubsequent games, we can also stroll through the shared location. All this is complemented by ranking lists, in which we fight for the best results with the players from all over the world.
Similar games:
PEGI Rating