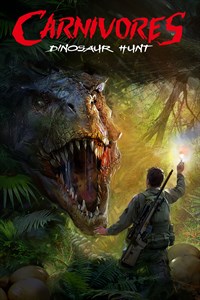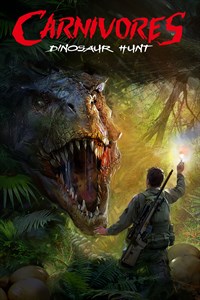 Carnivores: Dinosaur Hunt
A new version of the classic FPS with dinosaurs, which was first released in 1998 on personal computers. The new version combines the plot of the original game with modern graphics and technical features that were used in newer ports of the game.
Action | FPP | science fiction | hunting | dinosaurs | FPS | indie games | shooters
Carnivores: Dinosaur Hunter Reborn for PC is a refreshed version of the bestselling game created by Action Forms. The title combines the features of hunting games with FPS shooters and it stars dinosaurs. The original game was released in 1998 and after more than a dozen years it was ported to Sony consoles and mobile devices. Its new version combines the plot and mechanics of the original title with modern graphics and features used in newer ports of the game. This version was developed by a team consisting mostly of creators of the first version. The team is led by Yaroslav Kravchenko.
Plot
The game takes place in a distant future. During an exploration of remote areas of space, a planet similar to Earth is discovered. However, colonizing it seems impossible since it is inhabited by giant reptiles similar to our prehistoric dinosaurs. DinoHunt Inc. decides to take advantage of this opportunity and it offers unusual safari to rich adventure seekers. They can hunt for the giant predators.
Mechanics
During the game for PC the player is exploring large areas of a few islands of different biomes (beaches, jungles, forests, rocks and deserts) and weather conditions. The player assumes the role of one of the hunters. He must gain proper license, pack useful equipment and start the most dangerous expedition of his life. A wide variety of equipment is available, including regular pistols, precision rifles and silent crossbows. Depending on preferences, instead of killing the reptiles the player can capture them by using tranquilizing ammunition. Trophies obtained during the hunt are taken to player's unique trophy room. However, the player must constantly remember what he is dealing with as each step can end in death in the jaws of a giant creature.
Technical aspects
The developers put much effort into adapting the visuals of the game to modern standards. During the expedition the player can observe extensive spaces and a vibrant wild environment. Various types of dinosaurs were recreated in detail, starting with smaller, 2-meter lizards and ending on the giant T-Rexes. Due to the advanced artificial intelligence, the creatures react to visual impulses, sounds and smells. They use their senses when facing the hunters.
Game mode: single player
Age restrictions Carnivores: Dinosaur Hunt: Good for all ages.
Carnivores: Dinosaur Hunt System requirements
Minimum:
Intel Core 2 Duo 2.3 GHz
4 GB RAM
graphic card 896 MB GeForce GTX 260 or better
1 GB HDD
Windows 7