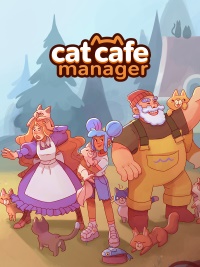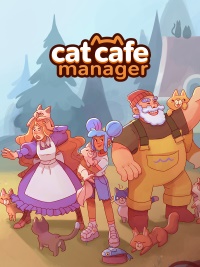 Cat Cafe Manager
A hybrid of simulation and economic strategy with RPG elements. In Cat Cafe Manager we run our own cat cafe and our task is to make it both a home for local cats and a place where local people will be attracted to.
Strategy | Economic | RPG elements | 2D | indie games | animals | cats
Cat Cafe Manager is an economic strategy with RPG and sim elements. It was developed by Roost Games, a studio founded by developers who have worked on such projects as Reus, Renowned Explorers and Godhood.
Plot
Cat Cafe Manager takes us to a small village Caterwaul Way. The cat cafe, which our character inherited from her grandmother, is located there. Our task is to make it a cozy home for cats and a place where all the residents of the village will be happy to spend their free time. With time, we learn more and more about Caterwaul Way and find out its secrets, as well as discover the shrine of the cat god located in the nearby forest.
Game mechanics
In Cat Cafe Manager we observe the action from a top-down view. Our main task is to manage the cafe. Although at first the place doesn't look too impressive, as we progress we gain resources, which we can use to expand it, purchase new furniture and equipment and expand the menu. The better our café becomes, the more people visit it. To meet the growing expectations of guests, we need to hire more employees, while taking care not to overload them with too many duties. With time their skills grow, which has a direct impact on the quality of their work.
While chasing money, it is important not to forget the relationship with the villagers. We meet them both in our cafe and as we walk along Caterwaul Way. By making friends with the likes of a young musician named Finley and a haulier named Bonner, we can learn more about the area, as well as interesting recipes to serve in our café.
But what would a cat café be without cats? The streets of Caterwaul Way are teeming with a variety of pets and it's up to us to make friends with them and then adopt them. Each pet has its own personality and therefore requires a slightly different approach. However, the game is worth the candle, because after adoption, each kitten brings something new to our cafe.
Technical aspects
Cat Cafe Manager runs on Godot technology. Game features simple, but at the same time colorful and clear graphics in a cartoon style.
Game mode: single player
Expectations: / 10 based on 1 votes.
Age restrictions Cat Cafe Manager: Good for all ages.
Cat Cafe Manager System requirements
Minimum:
Intel Core i3
4 GB RAM
graphic card Intel HD 4000 or better
500 MB HDD
Windows 10 64-bit
Recommended:
Intel Core i3
8 GB RAM
graphic card Intel HD 4000 or better
500 MB HDD
Windows 10 64-bit