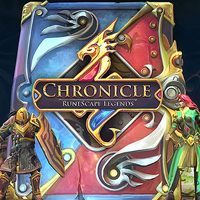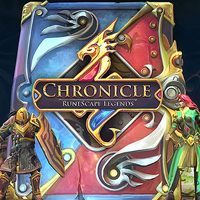 Chronicle: Runescape Legends
A fantasy card game which takes place in the universe of the popular browser MMORPG Runescape developed by Jagex Ltd. The gameplay focuses mostly on multiplayer modes and features unusual mechanics that turn around the rules of classic card games.
Chronicle: Runescape Legends is a fantasy card game which takes place in the universe of the popular, browser MMORPG Runescape. The game was developed by the creators of the original title, Jagex Ltd studio. The game is available on iOS, PC and AND as a free-to-play title and it allows using the same account that is used to login to Runescape.
Mechanics
In Chronicle: Runescape Legends for iOS, PC and AND the player assumes the role of one of the heroes of the Runescape world and participates in series of duels. The game is mostly focused on multiplayer rivalry. However, the gameplay mechanics make the game very different than other genre examples, including the popular Hearthstone: Heroes of Warcraft developed by Blizzard. Runescape Legends turns around the rules of classic card game. In Jagex Ltd's game the player doesn't focus on classic PvP encounters. Instead of that, he competes against other player by trying to prepare himself in best way possible for the final duel.
Each match in Runescape Legends consist of five rounds during which both opponents move through three-dimensional maps, reveal new cards and face various challenges. The cards are divided into two groups: combat (in which one faces various monsters and gathers valuable items) and adventure (they provide bonuses like healing, better equipment and actions against rival). What makes the game original is the fact that player uses the cards not on the opponent but on himself. By doing so he gains attack points, health points or gold useful in the final duel with the opponent. The final duel starts after the fifth round ends – of course if none of the players had lost all of his health points before that.
Game modes
Online mode in which player competes with other users is the basic part of Chronicle: Runescape Legends. The so-called Dungeoneering is an additional gameplay option. In that mode players are moved to special PvP arenas on which they face challenges by using earlier prepared card sets. The game also contains a singleplayer campaign.
Technical aspects
In difference to most classic card games, Chronicle: Runescape Legends for iOS, PC and AND puts great focus on pageantry. The duels take place on small, animated maps that look like three-dimensional mock-ups appearing on the pages of an open book. After drawing each card one watches animations of characters fighting encountered enemies and from the other side of the board the rival avatar observes it.
Game mode: single / multiplayer Multiplayer mode: Internet Player counter: 1 - 2
Expectations: / 10 based on 5 votes.
Age restrictions Chronicle: Runescape Legends: 12+
Chronicle: Runescape Legends System requirements
Minimum:
Intel Core 2 Duo 2.0 GHz/AMD Athlon 64X2 4200+ 2.2 GHz
2 GB RAM
graphic card 512 MB GeForce G 100 lepsza
3 GB HDD
Windows 7/8/10
Recommended:
Intel Core i3 3.0 GHz/AMD FX-6300 3.5 GHz
4 GB RAM
graphic card 1 GB GeForce 560 Ti/Radeon HD 6870 or better
3 GB HDD
Windows 7/8/10