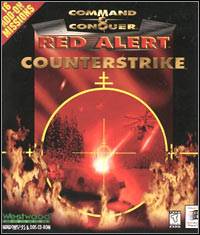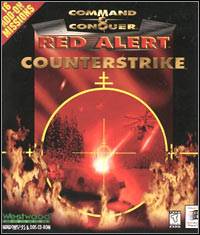 Command & Conquer: Red Alert - Counterstrike
PC
The official expansion to Command & Conquer: Red Alert, the renowned RTS title released in November, 1996 by the Westwood Studios company. Counterstrike features sixteen new scenarios (eight for each of the factions) of various difficulty levels.
This is Command & Conquer: Red Alert expansion pack.
Command & Conquer: Red Alert - Counterstrike

Release Date PC

02August1997
developer: Westwood Studios publisher: Virgin Interactive

game language: English
The first releases of Command & Conquer had no luck with the add-ons. Developers from Westwood Studios have gone to the proverbial easiness, serving the bloodthirsty players a full-fledged product to cities. So it was with The Covert Operations and it is no different with Counterstrike, the first official extension to the big commercial hit called Red Alert.
Counterstrike offers sixteen new scenarios, eight for each side of the conflict. We can play them in an unspecified order, which, according to the information on the box, should be considered an advantage - in fact, the opposite is true. If they were combined into a mini-campaign, tried to create a sticky story and add colour to it with premiere film inserts, it would be much better. The quality of the new missions also leaves much to be desired. Some of them are extremely difficult and require maximum concentration, while others can be completed in a few minutes, without exertion. The situation looks much better in the case of multiplayer maps - there are as many as 100 of them, but given that in the original version of Red Alert, there was already a board editor, no reason to rejoice. There is also a tiny campaign hidden in the game, in which your opponents will become.... gigantic ants. These are only four missions, but also very difficult at the same time, so they can become a real challenge for the player, as long as anyone will have fun shooting at this type of assortment. Another noteworthy thing (all the more so as the authors are proud of it, noting it on the box) are the new units, in the number of four. Going one by one: Tesla Tank - a blatant tank; Elite Super Soldier - a soldier in no way inferior to Tanyi; Wonder Dog - a Soviet cross between sheepdog and robot and Superjet - an aircraft carrying nuclear missiles. Frankly speaking, nothing interesting and certainly original. I also spoil the fact that none of these units can be built, they are available only in selected scenarios. Finally, something for the ear: eight premiere tracks, nota bene quite good. As with The Covert Operations, they have been recorded here in CD Audio format, so that they can be played on ordinary gaming equipment. Westwood Studios attributed it to the advantages, of course, I would say that it's just filling a hole in the compaction.
To sum up, Counterstrike is a very weak addition, paradoxically, offering virtually nothing new. Designed only for total enthusiasts of the original version of the game, or for collectors.
Please let us know if you have any comments or suggestions regarding this description.
Last updated on 10 December 2007
Game mode: single / multiplayer Multiplayer mode: Internet
User score: 5,5 / 10 based on 114 votes.
Age restrictions Command & Conquer: Red Alert - Counterstrike: 12+
Command & Conquer: Red Alert - Counterstrike System requirements
Recommended:
PC 486DX4 100MHz
8MB RAM
SVGA