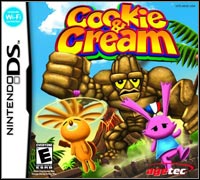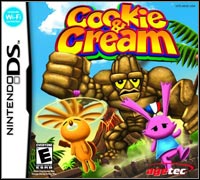 Cookie & Cream
NDS
Cookie & Cream is an action-packed platformer prepared exclusively for the owners of a two screen Nintendo console. It is a continuation of a game about the adventures of title heroes, which was released in 2001 for PlayStation 2.
Action | platform | Nintendo exclusive titles
Cookie & Cream

Release Date NDS

26June2007
developer: FromSoftware publisher: Agetec Inc. Official website

game language: English
The treasured Moon Festival for the Rabbit Clan cannot happen until someone finds the moon!
Two determined bunnies named Cookie and Cream must work together to uncover the mystery of the missing Moon!
Cookie & Cream is an action/platformer where players navigate their way through challenging terrain on the top screen while solving puzzles and disarming traps on the touch screen below. Played as either a single-player game where one person controls both characters, or a cooperative game where one player maneuvers Cookie on the top screen while the other is in charge of Cream on the touch screen, Cookie & Cream is a unique combination of gaming genres, and unlike anything else on the Nintendo DS.
- Single player game lets you use directional button and stylus to control two characters at once.
- Cooperative game lets you and a friend work together to advance through levels.
- Wireless compatible for co-op play and Wi-Fi compatible for four-player battles.
- Download play mode allows two to play select stages off one Game Card.
- Eight diversely themed worlds to traverse, including Desert World, Music World, Trick World and Water World.
- Nine challenging minigames to explore.
- Fun for all ages, yet challenging enough for experienced gamers.
Game mode: single / multiplayer Multiplayer mode: Player counter: 1-4
Age restrictions Cookie & Cream: Good for all ages.