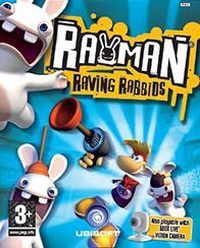 Rayman Raving Rabbids
Rayman Raving Rabbids is a spin-off version of the popular series of 3D platformers, containing 70 mini-games prepared by the development team of Ubisoft concern.
Action | TPP | 3D platformers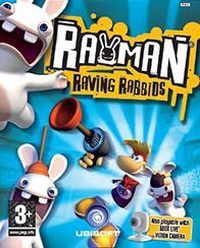 Rayman Raving Rabbids is another reincarnation of a classic animated action-adventure game series featuring Rayman character. This time, the colorful realm gets invaded by countless hordes of crazy Rabbids from space. Your job is to outsmart the hairballs and save the world from "rabbidization". The game abounds in elements of humor and parody.
The nasty rodents have been preparing the invasion for long, carefully crafting the plan inside their underground labs. For the last two years they have been busy multiplying their numbers, according to the principle: "nec Hercules contra plures" ("even Hercules can't prevail against numerous foes"). Fortunately, our hero is not a Hercules, so the phrase does not apply to him – Rayman stood against bigger problems in the past (with the players' humble help, of course). This time the hero gets kidnapped and thrown into an arena, where he has to singlehandedly take on any challenges that the wicked creatures come up with. Obviously, he also tries to find means of escape, in which plungers acquired on the way prove to be very helpful.
This part of the series is not a typical platformer, but rather a pack of light-hearted mini-games of various types. These include: exciting shootouts and races or challenges of strength, precision, agility, reflexes, or even the sense of rhythm. All this is presented in an original, funny form. Rayman has to show off his less obvious talents, e.g. dancing, as the Rabbids are crazy about dancing and music (rock, pop, hip-hop, disco). Rayman has access to a wardrobe, where he can wear various outfits and then come out to the stage and literally stun the audience with his dancing skills. However, things do not always go so nice. You cannot avoid brawls with hordes of Rabbids attacking from land, air, and water. The opponents come in several types, each one with its own characteristics (they differ in size, color, weapons) and deadly features.
The game is set in a colorful, fairy world composed of both larger areas and small locations. The artwork has a cartoon-like style, characteristic of animated films. The game offers a limited freedom as to the selection of challenges, making it rather linear. This, however, is true only for the main story mode, whereas in other modes, which focus on competition or cooperation, you have full freedom of choice of gameplay. Improving your best scores you earn points, which can be spent on various extras, such as comic videos with Rabbids. Humor, beautiful animation, and colorfulness are the title's big advantages, which make it appealing to the youngest players, to whom the game is dedicated.
Age Rating
age requirements: everyone
System requirements
Recommended:
Pentium 4 2.5 GHz
512 MB RAM
graphic card 128MB (GeForce 5700 or better)