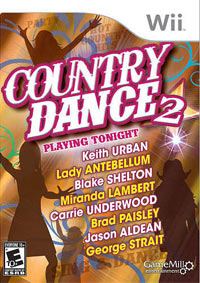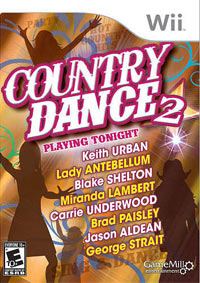 Country Dance 2
Wii
An arcade dance game in which we use a controller to move to the rhythm of country music tracks. The game also includes a karaoke function, which evaluates our vocal skills. New features include four-player multiplayer mode on one screen and 1-on-1 duel mode.
Country Dance 2

Release Date Wii

01November2011
developer: High Voltage Software publisher: GameMill Entertainment

game language: English
Country Dance 2 is a continuation of a series of arcade music and dance games, in which we can listen to the greatest hits of country music. The American High Voltage Software studio is responsible for the production of the title.
The gameplay model has not changed significantly compared to the first part of the game. We hold the Wiilot in our hands and our main task is to imitate the movements of dancers appearing on the TV screen. The correctness of the performance is then judged by the game. Players were also given the opportunity to sing songs together with the original performers. The quality of these vocal performances is also evaluated.
New to the game is the four-player multiplayer mode, thanks to which players gathered in front of a single screen can perform complex dance hands together, and most importantly, each of them can be individually tailored to a given player. The creators have also provided the option of two-person dance duels, in which we compete with each other for the highest number of points.
The selection of songs should satisfy every amateur of this music genre. There are 30 songs on the list, among others:
Ashton Shepard - 'Look It Up'.
Billy Currington - People Are Crazy
Blake Shelton - Honey Bee
Carrie Underwood - "All American Girl".
Easton Corbin - 'Roll With It'.
Eric Church - Hell On The Heart
George Strait - 'Here for a Good Time'.
Gwyneth Paltrow - Shake That Thing
Hayley McLean - Good Time Bone
Josh Thompson - Won't Be Lonely Long
Kellie Pickler - Tough
Little Big Town - "Little White Church".
Miranda Lambert - Gun Powder and Lead
Montgomery Gentry - What Do Ya Think About That
Rodney Atkins - 'Take a Back Road'.
Please let us know if you have any comments or suggestions regarding this description.
Game mode: single / multiplayer Multiplayer mode: Player counter: 1-4
Expectations: 0.5 / 10 based on 1 votes.
PEGI rating Country Dance 2