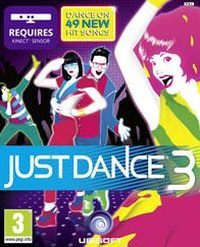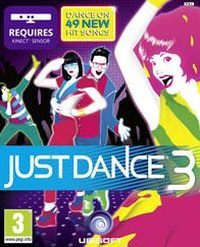 Just Dance 3
The third part of the best-selling series of dance games by Ubisoft. As usual, the game is about keeping pace with the dancers' silhouettes displayed on the screen. The creators prepared modes for a single player and multiplayer games.
Party | Kinect | music | dancing | family | PlayStation Move | splitscreen
Just Dance 3 is the third installment in a bestselling dance game series, in which players dance in the rhythm of well-known songs in front of their TV screens. The biggest novelty, when compared with the previous editions in the series, is the fact of releasing the game on Xbox 360 and PlayStation 3. Each of the three versions of the game uses different motion controller designed for the particular platform (Wiimote, PlayStation Move, Kinect).
Gameplay model, which already brought Just Dance series huge popularity, was left unchanged in the third installment. Just as before, players must watch a dancer displayed on the screen and mimic his or her moves. The game evaluates the player's speed and accuracy, which is rewarded with an appropriate number of points. The music that accompanies you in the game is a compilation of over 40 most popular pop and hip-hop songs, such as:
2 Unlimited – "No Limit"
A-ha – "Take On Me"
Anja – "Dance All Nite"
Bananarama – "Venus"
Black Eyed Peas – "Pump It"
Bollywood Rainbow – "Kurio ko uddah le jana"
Cee Lo Green – "Forget You"
Countdown Mix Masters – "Beautiful Liar"
Daft Punk – "Da Funk"
Danny Elfman – "This is Halloween"
Donna Summer – "I Feel Love"
Dr. Creole – "Baby Zouk"
Duck Sauce – "Barbra Streisand"
Girls Aloud – "Jump (For My Love)"
Groove Century - "Boogie Wonderland"
Gwen Stefani – "What You Waiting For"
Inspector Marceau – "The Master Blaster"
Janelle Monae – "Tightrope (Solo Version)"
Jessie J featuring B.o.B – "Price Tag"
Brahms by Just Dance Classical Orchestra – "Hungarian Dance No. 5"
Katy Perry featuring Snoop Dogg – "California Gurls"
Kiss – "I Was Made For Lovin' You"
Konshens – "Jamaican Dance"
African Ladies – "Pata Pata"
Latino Sunset – "Mamasita"
Laura Bell Bundy – "Giddy On Up (Giddy On Out)"
Lena Meyer-Landrut – "Satellite"
LMFAO featuring Lauren Bennett and GoonRock – "Party Rock Anthem"
Madness – "Night Boat To Cairo"
MIKA – "Lollipop"
Nelly Furtado featuring Timbaland – "Promiscuous"
Pointer Sisters – "I'm So Excited"
Queen – "Crazy Little Thing Called Love"
Reggaeton Explosion – "Boom"
Rita Mitsouko – "Marcia Baila"
Robbie Williams and Nicole Kidman - "Somethin' Stupid"
Scissor Sisters – "I Don't Feel Like Dancin'"
Sweat Invaders - "Gonna Make You Sweat (Everybody Dance Now)"
Taio Cruz – "Dynamite"
The Buggles – "Video Killed The Radio Star"
The Chemical Brothers – "Hey Boy Hey Girl"
The Girly Team – "Baby One More Time"
The London Theatre Orchestra & Cast – "Think"
The Sugarhill Gang – "Apache (Jump On It)"
Tommy Sparks – "She's Got Me Dancing"
Wilson Pickett – "Land of 1000 Dances"
In contrast to Nintendo console version, Just Dance 3 for PlayStation 3 offers full HD resolution, making the game much better looking. Besides, owners of the Sony console can sing the songs along as it they are being played, which also is scored.
Game mode: single / multiplayer Multiplayer mode: Player counter: 1-8
Media type: 1 BD
PEGI rating Just Dance 3
Just Dance 3 System requirements
Uses:
PlayStation Move
PlayStation Eye