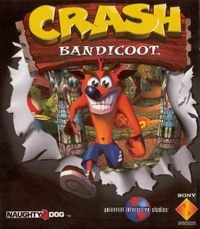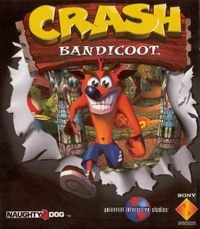 Crash Bandicoot
Re-edition of the classic 3D platformer that originally appeared on the PlayStation in 1996. In the game we play the role of a friendly animal named Crash, who, after escaping from Dr.
Originally released on the PlayStation in 1996, the game is only available in digital form as part of the PSOne Classics service.
Crash Bandicoot is a 3D platformer, whose protagonist is a representative of a little-known species called barred bandicoot. The game was developed by Naughty Dog studio founded in 1986 - the studio previously worked mainly on productions for Amiga and Apple II computers.
Plot
The villain of Crash Bandicoot is a crazy scientist called Dr. Neo Cortex, who, together with his assistant Nitrus, intends to conquer the world using mutant animals created with the help of a specially constructed machine. To make the animals more obedient, the doctor also subjected them to a brainwashing process. During one of these trials, our protagonist Crash escapes from Dr. Cortex's laboratory and, after an exhausting escape, wakes up on an unknown island. His task is to free the beloved Tawna and, of course, to save the world from the mad scientist.
Mechanics
Crash Bandicoot takes place on the fictional Wumpa Islands archipelago, located somewhere southeast of Australia. The game has been divided into 3 different worlds with about 10 levels each. During the game, we visit beaches, forests, villages, ancient ruins, mountains, mines and a bit more industrial sceneries like power plants and a huge castle, where we will have the final battle with Dr. Neo Cortex. The game is about jumping and bypassing various obstacles as well as fighting enemies - Crash can roll into a ball knocking enemies out of the screen. The game itself is shown in two ways. In some stages, the action is observed from a classic side-scroll perspective and in others, the camera switches to TPP view (similar to the Croc series).
Technical aspects
Cash Bandicoot is characterized by aesthetic and colorful 3D graphics and quite a high level of difficulty. We can save the game only at certain moments, and we have a relatively small number of lives, which can be easily lost in contact with the opponent or during a fall into an abyss. Luckily, during the game, our hero can find various items thanks to which he can, for example, replenish health or unlock access to special bonus stages.
Game mode: single player
User score: 8,4 / 10 based on 92 votes.
Age restrictions Crash Bandicoot: Good for all ages.
Crash Bandicoot System requirements
Uses:
PlayStation Network
Uses:
PlayStation Network
Uses:
PlayStation Network
Requirements:
Xperia Play