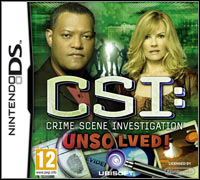 game language: English
game release date for NDS:
23November2010
CSI Crime Scene Investigation - Unsolved! is another adaptation of an overwhelmingly popular American crime drama television series CSI: Crime Scene Investigation. This time you join the TV show characters on the portable Nintendo DS collecting evidence, interrogating witnesses and in effect solving criminal cases of Las Vegas.
In the game you work together with characters known from the TV show to solve five original criminal cases. Among others, you investigate a mysterious death of a pop star killed on stage, or find a mummified body on a desert. You conduct investigations according to standard police procedures, first, examining the crime scene, collecting evidence, interrogating witnesses and testing the collected material in the lab using e.g. ultraviolet or a bullet comparing machine. The last one includes several mini-games – only completing correctly them you get the right test results.
The game fully uses the Nintendo's console touch screen, and DSi model owners can also make extra use of camera during field work or in the lab.
PEGI Rating