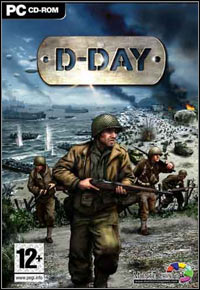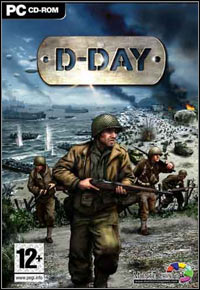 D-Day
PC
A real-time strategy published by the British company Digital Jesters. According to what we can read in the title, the program is devoted to one of the most famous invasions in the history of World War II, the landing in Normandy.
D-Day

Release Date PC

27August2004
developer: Digital Reality publisher: Digital Jesters Official website

game language: English
Let the landings begin! D-Day drops players into the role of World War II Allied forces in the final drive to liberate Europe. Throughout three campaigns and 12 missions in single player mode, D-Day challenge players to prepare troops for battle, create combat strategies, and execute one of the largest military invasions in wartime history.
Players must successfully plan and execute the turning points in the liberation of Europe: the first hours of the beach landing at Omaha Beach, the paratrooper attack on Sainte Mère Eglise, the taking of the Cherbourg harbor, operation Cobra, the battle of the Falaise pocket, and the liberation of Normandy in August 1944. During the campaigns, players can call in the help of resistant forces to recon the landing areas, take advantage of the Allies' air power (bomber, glider, paratroopers), and stop the German forces' counter attacks. D-Day features over 60 historically accurate units, including rifleman, paratroopers, artillery, tanks, transports, and air support.
The multiplayer mode uses GameSpy's online Matchmaking network, allowing up to 8 players to play simultaneously on 12 different maps using 3 different modes. An editor allows players to create their own multiplayer maps.
D-Day uses cutting edge 3D technology providing the game with advanced damage and destruction models, a realistic physics animation system, real-time shadows, stunning realistic landscapes and much more. Like its predecessor, Desert Rats vs Afrika Korp, D-Day combines real-time strategy and turn-based gameplay elements. For instance, to best establish your strategy, you can pause the game at any time and plan your operations, give out your orders, un-pause the game and see your orders carried out!
Features:
Historically accurate: D-Day features a documentary base with the strategic charts of the battles, films from historical archives as well as veterans' and local inhabitants' testimonies. This content was elaborated in collaboration with the "Normandie Mémoire" association.
More than 60 units at your command: Infiltrate enemy territory using soldiers with special tactical abilities (officer, rifleman, scout, machine gunner, sniper, medic, sapper, flamethrower, panzerschreck & bazooka – all of which can also be paratroopers) and specialized vehicles (recon, tank, artillery, anti-tank artillery, anti-air artillery, transport, air support). Cannon reloading time is displayed for every tank.
Enhanced Combat RealismRealistic combat experience: Implement realistic war strategies used by the Axis and Allies during World War II.
Destroy bridges, carpet bomb the enemy line, and capture any enemy vehicle or building to gain the tactical advantage over your opponent. A pause feature allows you to think over their tactics at anytime and to schedule up to three orders per unit. Canon reloading time is displayed for every tank.
Cutting Edge Advanced 3D Technology: The 3D Walker engine provides detailed damage models, realistic unit animations and movement, and breathtaking special effects. Maximizing Direct X 9.0b technologies provides the game with natural looking wartime landscapes, reflective water displays, graphically-rich environments with stunning lighting and shadow effects, detailed damage models, realistic animations and breathtaking special effects.
3D Grass. For the first time in a real time tactical game, grass is in full 3D. This allows interesting tactical options; for instance, it is even more difficult to detect mines.
Immersive Single Player Experience: The campaign mode spans 12 missions ranging from paratrooper mission and beach landing missions on D-Day, to defensive and counterattack missions after disembarkation leading up to the liberation of Normandy. An objective accomplished in a mission can influence the outcome of the next mission. All missions can be replayed with units of your choice in scenario mode.
Deep Multiplayer Gaming Experience: Twelve extensive multiplayer maps are open to battle for up to eight players. All maps are playable in three game modes: Deathmatch, Conquer and Capture the Flag. These modes can be played on LAN, or over the Internet, but also through the GameSpyNetwork.
Intuitive Map Editor: The map editor allows players to design their own multiplayer maps thus delivering additional replay vPlayers can quickly and easily design multiplayer maps with 3D terrain, custom lighting and a multitude of objects.
Game mode: single / multiplayer Multiplayer mode: Internet Player counter: 1 - 8
Media type: 2 CD
User score: 7,8 / 10 based on 308 votes.
PEGI rating D-Day
D-Day System requirements
Recommended:
Pentium 4 1.4 GHz
512MB RAM
graphic card 64 MB (GeForce 3 or better)
1.6 GB HDD