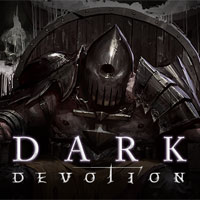 Dark Devotion, released on PC, PS4 and XONE, is an action game enriched with RPG elements. The production was developed by the French studio Hibernian Workshop.
Plot
The action of Dark Devotion is set in dark fantasy land, where the Church rules over the whole humanity through terror. We play the role of a young warrior of one of the religious orders, sent with the mission to explore a gloomy temple controlled by demonic forces, which for centuries has been a place where daredevils can prove the strength of their faith and show that they are worthy of salvation.
Mechanics
At first glance, Dark Devotion may look like a platformer, however, it is a 2D action game with RPG elements. Our character cannot jump. Instead, we can only move to the right or left side of the screen and use ladders. We spend most of our time on exploration, avoiding traps, solving puzzles and, most importantly, on combat.
The combat system is relatively simple, but the clashes themselves aren't easy, meaning that death of the character isn't rare. Our hero can fight with a variety of melee weapons (including swords, axes, and scythes) and a bow, perform dodges and use a shield to block enemy attacks. Over time, we also learn a few spells. All movements are performed relatively slowly, so you have to find the right moment to attack and predict the moves of your enemies.
Faith plays an important role in the game. It is represented by a special bar, which we fill up by killing enemies. We spend it during prayers that activate magical objects, such as locks in some doors or statues healing us from infections. Character development is realized mainly through different armors and weapons. We can upgrade them at by the blacksmith, whose headquarters is located in one of the few safe places in the temple.
Similar games:
Age Rating
age requirements: 16+
System requirements
Minimum: Intel Core i3-540 3.06 GHz / AMD Phenom II X4 965 3.4 GHz, 2 GB RAM, graphic card 1 GB GeForce GT 240 / Radeon HD 5570 or better, 500 MB HDD, Windows 7 64-bit
Recommended: Intel Core i3-6100 3.7 GHz, 6 GB RAM, graphic card 2 GB GeForce GT 730 or better, 500 MB HDD, Windows 7/8/8.1/10 64-bit