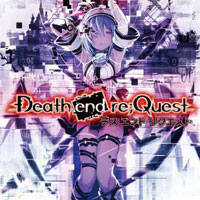 Death end re;Quest is a classic jRPG with a turn-based combat system, which takes place in an MMO game that uses advanced VR and AI technologies. The game was developed by Idea Factory and Compile Heart, which specialize in releasing low-budget and niche RPGs, designed for PlayStation family consoles and PCs. Death end re;Quest is very similar to other works of these developers, namely the Hyperdimension Neptunia series.
Plot
Death end re;Quest takes place in the near future. The main character of the title is Arata Mizunashi, a programmer who works on computer games. One day, he receives a mysterious email from Shina, his former work colleague, who had disappeared in mysterious circumstances a year earlier. Together with her, he worked on a new MMO entitled World's Odyssey (W.O.D.), which benefited from the advanced VR and AI technology offered by the Alice engine. Arata discovers from the news that Shina has been imprisoned in the game and has been trying to get out of it for a year, but in order to do so, she has to reach the real end of the game. The problem is that she has only one percent chance to unlock it. With the help of friends from the real world and virtual independent characters from World's Odyssey, the protagonist decides to help her friend to achieve this goal.
Mechanics
The action in Death end re;Quest is presented from a third-person perspective. During the game, we explore levels of World's Odyssey where we fight dangerous bosses and enemies. There are several characters in our team, each with unique attacks, combat skills and abilities that allow them to unlock paths that aren't available in any other way.
The battles take place in dedicated arenas, to which we are transferred after attacking a selected enemy. We fight in turn-based mode by selecting commands and attacks from the menu for each character. A novelty is a possibility of modifying the way a battle goes. By loading special programs we temporarily change the style of the game, for example to a first person shooter or a fighting game. The game also has a classic system of quests and equipment, which we buy or find during the exploration of the world. It is worth mentioning that the players also conduct a private investigation on Shina in the real world - this can be done after logging out of World's Odyssey. This segment of the game is presented in the form of a visual novel.
Technical aspects
Death end re;Quest is the second game in the history of Idea Factory and Compile Heart using the Unreal Engine, which compared to developers' older production significantly improved the quality of graphics and made the game run smoother. The two-dimensional elements of the visual setting were made in the style known from previous works of these developers. The game offers full voice-over, both in English and Japanese.
Age Rating
age requirements: 16+
System requirements
Minimum:
Intel Core i5 2.3 GHz / AMD A9 2.9GHz
4 GB RAM
graphic card 1 GB GeForce GTX 460 or better
Windows 7
Recommended:
Intel Core i5 3.3 GHz / AMD FX-8350 4.0 GHz
8 GB RAM
graphic card 2 GB GeForce GTX 960 / Radeon R9 290 or better
Windows 7/8/10 64-bit