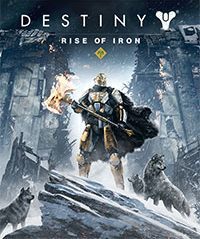 Game mode: single / multiplayer
Multiplayer mode: Internet
Destiny: Rise of Iron released on PS4 and XONE is another DLC for Destiny, published in 2014. The production is developed by Bungie and requires Destiny: The Taken King to work.
Plot
The plot focuses on destruction of the great wall located on southern border of Old Russia. The breach enables hordes of fallen mutants get into the thumbs of the Golden Age, filled with valuable artefacts. To make matters worse, the plague unearthed by the mutants poses a threat to everyone. Along with Lord Saladin, in Destiny: Rise of Iron players set off on a journey with the aim of stopping all the threats and by the way they learn the truth about the Iron Lords' fate.
Mechanics
Published on PS4 and XONE, Destiny: Rise of Iron does not dramatically change mechanics and centres on the additional content. The DLC offers a new campaign with a whole set of new main and side missions. The game introduces additional weapons, armours, and other useful items. Also, the character's maximum development level is raised.
The game features new terrains – The Plaguelands. There are also new locations designed for community interaction between players, known as Felwinter Peak.
During gameplay you face a new fraction of enemies and a few bosses. Additionally, the game features a new coop adventure – the Raid, designed for six players and a Strike mission for a team of three players. Destiny: Rise of Iron also offers something for PvP mode fans – the Crucible with a few additional modes and maps.
Similar games:
PEGI Rating
System requirements