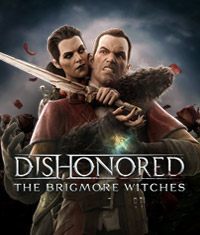 Dishonored: The Brigmore Witches is the second feature extension to the PC, X360 and PS3 release of Dishonored, which ends with a story of a killer Doodle started in the previous DLC, The Knife of Dunwall. The author of both add-ons and the basic game is Arkane Studios, and the publishing side is taken care of by Bethesda.
Story
The story begins at the same place where The Knife of Dunwall ended. Daud follows Delilah's witch to discover her undoubtedly dangerous plan and thwart its implementation. This is not an easy task, however, as the hero clearly loses authority among his subordinate group of assassins, and what is worse, everything indicates that the witch's hiding place is located on the outskirts of the Dunwall estate of Brigmore. To circumvent the blockade surrounding the city, Daud must use the help of the Dead Eels gang.
Mechanics
The gameplay in The Knife of Dunwall on PC, X360 and PS3 is almost identical to that in the "stand". Again, we break through the nooks and crannies and find locations that give us a lot of freedom in choosing the routes to our destination. Daud's arsenal of weapons and gadgets allows you to fight in a direct way and murder everything that falls, but sneaking is also a good solution. The hero has supernatural skills similar to Corvo, so that he can quickly get out of the guards' eyes, see through the walls, etc. The hero has the same supernatural skills as Corvo, so that he can see through the walls and so on.
As in the previous extension, we visit both the locations known from the "stand", as well as completely new places. Among the former was Coldridge prison, from which we fled as a Corvo, and for the first time we will put our foot on the gangs-controlled waterfront and in the title, ruined Brigmore estate, which was taken over by Delilah's Sabbath.
The Brigmore Witches allows you to move your saved game state from The Knife of Dunwall. Thanks to this, the player retains all the weapons and skills acquired in the previous role-playing extension.
Please let us know if you have any comments or suggestions regarding this description
Age Rating
age requirements: 18+
System requirements
Recommended:
Quad Core i5 2.4 GHz
4 GB RAM
graphic card 768 MB (GeForce GTX 460 or better)
3.4 GB HDD
Windows Vista/7
Internet connection