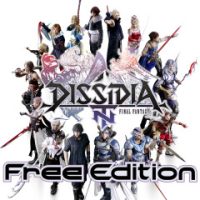 Game mode: single / multiplayer
Multiplayer mode: Internet, players: 1-6
Dissidia Final Fantasy NT Free Edition is a combination of action and fight game, in which we control the characters appearing in the main installments of the Final Fantasy series. The production is a representative of the Dissidia Final Fantasy series, which saw a total of two parts released on the PSP console in 2008 and 2011. It is worth noting that the developer of the title is not Square Enix, which only serves as a producer and publisher, but Koei Tecmo and its Team Ninja studio, well known for their Ninja Gaiden and Dead or Alive brands, as well as games such as NiOh, Hyrule Warriors and Fire Emblem Warriors. Dissidia Final Fantasy NT Free Edition is a free-to-play special version of the original commercial edition. Dissidia Final Fantasy NT which was released on PlayStation 4 in January 2018.
Plot
Basic version of Dissidia Final Fantasy NT Free Edition does not have any standalone feature mode. Access to the special arcade mode with feature interludes, which were included in the commercial edition of the game, we get only after buying the DLC. The author of the script, dialogues and cut scripts is Kazushige Nojima, who works on the following projects at an early stage Final Fantasy XV, Final Fantasy X, Kingdom Hearts and Kingdom Hearts II.
Mechanics
Dissidia Final Fantasy NT Free Edition is a three-dimensional fight in which two teams of three people stand in front of each other. The fights take place in closed arenas and the action is observed from behind the back of a character controlled by us. Players control heroes belonging to one of the four character classes, indicating their skills and role during the fight (Vanguard, Assassin, Marksman, Specialist). Among the heroses there were protagonists and antagonists of the main scenes. Final Fantasysuch as Noctis (Final Fantasy XV), Cloud Strife (Final Fantasy VII), Lightning (Final Fantasy XIII), Terra Branford (Final Fantasy VI), Sephiroth (Final Fantasy VII).
It is worth noting that Dissidia Final Fantasy NT Free Edition offers a total of only four selected heroes from the pool of more than 28 characters available in the commercial version of the game. The four changes rotationally every week. In order to unlock permanent access to your favorite heroes we have to purchase the appropriate DLC set.
The game uses a rebuilt and extended combat system, which was used by its predecessors. Each heros is described by several statistics. The most important are health points (HP) and courage (Bravery). The goal of players is to eliminate opponents by resetting their health indicator. Heroes have a number of attacks, but each of them is assigned to two categories. Skills and moves steal an opponent's courage on the first, while abilities on the second use a pool of available bravery points to deal physical damage. The more courage points we have, the stronger the attacks we can carry out.
Additional help on the battlefield is also summons, powerful beasts called by players, which provide various bonuses. After winning a duel we receive experience points and money, which allows us to unlock new weapons, abilities and skins for each character.
Game modes
The production has extensive possibilities of multi-player games. The title was also given to the single player mode, where we fight against AI-controlled characters. After buying the appropriate DLC we also get access to fights in the feature mode.
Technical aspects
Dissidia Final Fantasy NT Free Edition uses a three-dimensional engine that offers high quality character models and spectacular special effects, as well as constant sixty-frames per second.
PEGI Rating
System requirements
PC / Windows
Recommended: Intel Core i7-6700K 4.0 GHz / AMD Ryzen 5 1400 3.2 GHz, 8 GB RAM, graphic card 3 GB GeForce GTX 1060 / 4 GB Radeon RX 470 or better, 35 GB HDD, Windows 10 64-bit
Minimum: Intel Core i5-2550K 3.4 GHz / AMD FX-6300 3.5 GHz, 8 GB RAM, graphic card 2 GB GeForce GTX 1050 / Radeon RX 460 or better, 35 GB HDD, Windows 10 64-bit