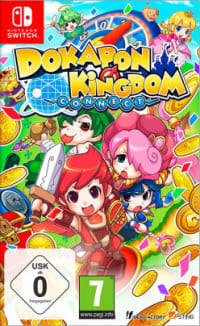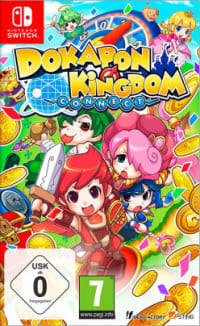 Dokapon Kingdom: Connect
Switch
A remastered release of Dokapon Kingdom, a hybrid of an RPG and a board game, now featuring online multiplayer. Dokapon Kingdom: Connect is a game about heroes trying to clear the titular kingdom of monsters and regain its lost riches.
Party | fantasy | turn-based | Board & card | RPG elements | for 2 people
Dokapon Kingdom: Connect

Release Date Switch

09May2023
developer: Sting publisher: Idea Factory

game language: English
Dokapon Kingdom: Connect is a slightly refreshed and content-enhanced version of Dokapon Kingdom, a board game and RPG hybrid from 2007. It was developed by Sting, the same studio responsible for the original game.
Plot
Dokapon Kingdom: Connect takes place in the titular fantasy Dokapon Kingdom. The realm's inhabitants led peaceful lives, their happiness ensured by money they loved dearly. Their idyllic existence came to an end, however, when monsters attacked the land, depriving people of their life savings. Faced with the lack of taxes, the king decided to act, summoning heroes from all over the world to his domain, tasking them with freeing it from monsters. The successful adventurer would be rewarded with marriage to the beautiful Princess Penny, and soon enough - the kingdom's throne.
Mechanics
The gameplay of Dokapon Kingdom: Connect is shown from the top-down perspective. First we must choose a character class. The available options include Warrior, Magician and many others. Once that's done, the adventure begins.
The game takes place on a large board. At the start of each round we spin a roulette wheel, the result showing how many spaces we can move. The action taken depends on the space we stop at: we can attack an enemy, duel another player, capture a city, acquire valuables or rob an opponent.
As we progress we earn experience and develop our characters. The game ends once the board is cleared of monsters, the wealthiest player at the time being the victor.
Game modes
Dokapon Kingdom: Connect features a number of different game modes. Unlike the original, which only supported local multiplayer, the remastered version can also be played online.
Technical aspects
The colorful, cartoonish visuals of Dokapon Kingdom: Connect were only slightly updated since the original; the game was adapted for widescreen resolutions.
Last updated on 08 May 2023
Game mode: single / multiplayer Multiplayer mode: Internet Player counter: 1-4
Age restrictions Dokapon Kingdom: Connect: Good for all ages.