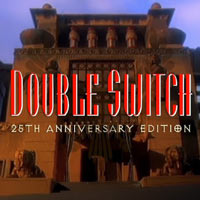 Double Switch: 25th Anniversary Edition is a remastered re-edition of the adventure and skill game. Double Switchwhich originally debuted on the Sega CD console in 1993, and two years later on PCs and Seda Saturn. The Digital Pictures studio, which operated from 1991-1995, was responsible for the production of the original. The developer specialized in games using the then popular full motion video technology. Screaming Villains is responsible for the preparation of the remaster. The creators cleaned up a few hours of original footage and prepared a new version of the interface, adapted to work with full HD resolution. The studio is also responsible for preparing a new version of the most famous Digital Pictures game - Night Trap, which was released in 2017.
Story
Action: 25th Anniversary Edition takes place entirely in a large apartment block Edward Arms, which was built at the beginning of the 20th century by the industrialist Lionel Atwater Edward III. According to legend, the statue of the goddess Isix, stolen by Lionel during his expedition to Egypt, is hidden inside it. The main character of the game is contacted by the current owner of the building, Eddie, who was imprisoned in the basement by one of the residents. We learn that the residence has been equipped with an advanced monitoring system and we are asked to take control of it and then save the residents from the attack of thieves and criminals storming the building, as well as find a code to open the basement. The situation is complicated by the presence of a mysterious murderer on the spot.
Mechanics
As in Night Trap, w Double Switch Our task is to control and activate traps that fall into criminals trying to take over the property. Players remotely control the security system by switching between different surveillance cameras that show the different corners of Edward Arms. We learn about the current position of individual residents and opponents from the minimap. The game ends when one of the residents falls into a trap or when we fail to catch a sufficient number of aggressors.
The title is divided into three acts/chapters. Each of them also has an additional purpose, e.g. in the first one we have to find codes for Eddie's cellar.
Technical issues
Double Switch: The 25th Anniversary Edition consists entirely of original film material that has been cleaned and digitally processed so that it can be displayed at high resolutions. The game also received a completely new interface.
Please let us know if you have any comments or suggestions regarding this description.
PEGI Rating
System requirements
PC / Windows
Minimum: Dual Core, 4 GB RAM, graphic card Intel HD 4600 or better, 4.4 GB HDD, Windows 7