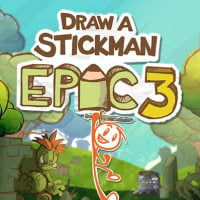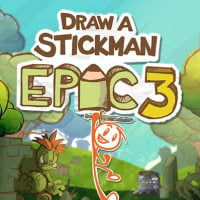 Draw a Stickman: EPIC 3
The third instalment of the series of adventure games developed by Hitcents studio. As in the previous parts, in Draw a Stickman: EPIC 3 the player draws his own hero and starts fighting monsters. This time we can create more than one playable character.
Adventure | logical elements | 2D | arcade elements | indie games
Draw a Stickman: EPIC 3 is the next instalment of a series of unusual adventure games, developed by the Hitcents studio. As in the previous parts, great focus was put on the player's creativity.
Plot
Draw a Stickman: EPIC 3 presents a new story. The player starts his adventure with drawing a protagonist, who then goes to the world controlled by evil forces. His task is to defeat them.
The new feature is that the player is not dependent on one character. Instead, he can create several characters to switch between during gameplay.
Mechanics
The game mechanics is not significantly different from the previous versions of the cycle. The player again takes control of his character and explores levels filled with various puzzles and enemies (such as trolls). He has to use several types of magic pencils to overcome the obstacles he encounters on his way. They allow him to draw objects that will enable him to solve the problem. It is worth noting that the challenges posed by the game do not have one specific solution. Additionally, the possibility of colouring created objects has been introduced.
The levels available in game hide secret areas. Discovering them will give the player access to new pencils and schemes of items that can be drawn.
Game modes
Draw a Stickman: EPIC 3 allows you to play in single player mode only.
Technical aspects
As in the previous parts of the cycle, Draw a Stickman: EPIC 3 has a cartoon-like design.
Last updated on 09 March 2023
Game mode: single player
Age restrictions Draw a Stickman: EPIC 3: Good for all ages.
Draw a Stickman: EPIC 3 System requirements
Minimum:
Intel Core 2 Duo 2.4 GHz
2 GB RAM
graphic card 256 MB GeForce 7600 or better
400 MB HDD
Windows Vista/7/8/10
Recommended:
Intel Core 2 Duo 2.8 GHz
4 GB RAM
graphic card 256 MB GeForce 8600 or better
400 MB HDD
Windows Vista/7/8/10