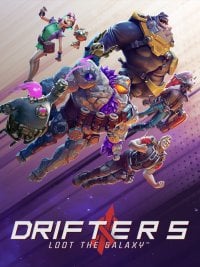 Drifters Loot the Galaxy
Drifters is a dynamic online free to play shooter from Blind Squirrel Entertainment, where the player takes on the role of a mercenary. The developer gives players distinctive characters with unique powers like in an Overwatch.
Action | TPP | science fiction | play for free | network | TPS | co-op | shooters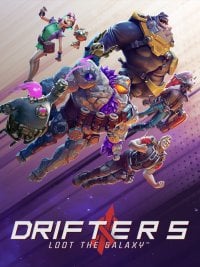 Game mode: multiplayer
Multiplayer mode: Internet, players: 10
Drifters is a dynamic free-to-play space shooter from Blind Squirrels Entertainment. This is the first independent game of the studio, but it was already known for ports of games like BioShock Collection or Prey. Drifters is a hero shooter, strongly focused on characters with unique abilities.
Plot
Drifters gives the player the opportunity to play as a shady character who went into space to look for profit - not necessarily legal. Together with others such characters, we carry out missions commissioned by the owner of a local bar - but remember that we are not the only ones looking for easy money, and the competition is merciless.
Mechanics
Drifters is a dynamic shooter that revolves its gameplay around the players' agility and quick response to sudden changes on the battlefield. The devs give the players tools to help them find their way in the dynamic world of Drifters - a jetpack and a grappling hook. The hook enables us to instantly cover the distance to our enemies, and enables us to move faster. Jetpack gives additional dynamic to our moves and enables us to jump away or recude the distance between the player and the opponent at a critical moment.
The weapons in Drifters are based on different variants of the same weapon, but in the end they deal the same amount of damage but in different ways. It's up to us and our style of play whether we prefer a shotgun that has a wider range of impact or one that shoots faster and but is less damaging.
We can choose one of 8 available heroes, which fit into standard classes known from this type of the game - tank, healer, support, etc. It is the task of the players to use the skills unique to each character in order to ensure the victory of our team.
Game modes
Drifters is a multiplayer game for 10 players divided into two 5-person teams. The game offers 5 modes that can be described as variations of classics: deathmatch, capture the flag and king of the hill.
Technical aspects
Attention should be paid to the comic book-like style and atmospheric designs, to which Vault Comics has contributed.
System requirements
Minimum:
Intel Core i5-6600K 3.5 GHz
4 GB RAM
graphic card 2 GB GeForce GTX 760 or better
30 GB HDD
Windows 10
Recommended:
Intel Core i5-9400F 2.9 GHz
8 GB RAM
graphic card 6 GB GeForce GTX 1060 or better
30 GB HDD
Windows 10