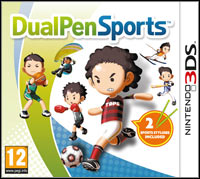 DualPenSports
3DS
A collection of sports mini-games using two special styles to play. Available disciplines include archery, volleyball, football, baseball and skiing. In addition to typical tasks in a special mode, we can also train console support in using the style.
Sports | baseball | casual | Football | winter sports | Nintendo exclusive titles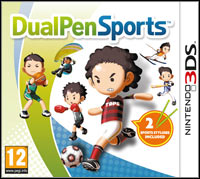 game language: English
game release date for 3DS:
21June2011
Compete using dual styluses for a fun and exciting real sports experience!
The first ever dual touch action sports game, DualPenSports™ lets players feel more like they're playing real sports with the use of up to two styluses. Exciting and accessible to everyone, DualPenSports' two hand coordination challenges players to have fun in new ways!
With 7 unique sports mini-games and a host of other challenges, DualPenSports delivers addicting moments of glory every athlete wants to play again and again! Players create and customize their own Personal Characters and then face off against the computer or friends in various sports mini-games!
Features:
Innovative Gameplay - DualPenSports is a new twist on both sports and touch games, immersing players into the experience with the use of both hands.
Multiple Gameplay Modes - DualPenSports contains 3 main modes to choose from:
- Sports Select: Compete in 7 unique sports for athletic glory!
Rank Match - Play to be the best and earn points in each sport.
Score Try - Practice each sport with specialized trials and challenges
- Today's Challenge: A different sports challenge every day!
- Tap Exercise: Hone your touch senses with these addicting activities.
Unique Sports Challenges - Compete in 7 sports mini-games ranging from classic Home-Run Challenges to Archery to the exciting drama of Soccer Penalty Kicks. Test your mental might in the 3 Tap Exercise drills, where players must perform feats of dexterity using both hands.
Customizable Athletes - Players can customize their Athlete's color of clothing, appearance and expressions, for a truly personalized experience.
Multiplayer Competition - Challenge a friend using the Nintendo 3DS Local Play and show off your sports skills.
Similar games:
Age Rating
age requirements: 12+