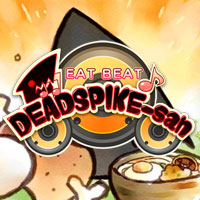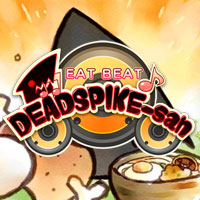 Eat Beat Deadspike-san
Switch
A rhythm game, in which the player controls the titular Deadspike-san – a special move of Ragna, the main protagonist of the BlazBlue series.
Arcade | 2D | rhythm | music | Nintendo exclusive titles
Eat Beat Deadspike-san

Release Date Switch

22March2018

22March2018

Nintendo eShop
developer: Arc System Works publisher: Arc System Works Official website

game language: English
Eat Beat Deadspike-san is a unique rhythm game developed by Arc System Works, a studio responsible for some of the installments of BlazBlue and Guilty Gear series, as well as titles such as Persona 4: Arena or Dragon Ball FighterZ. Aside from the Nintendo Switch release, the game was previously released for iOS and Android devices in 2015.
Plot
In Eat Beat Deadspike-san the player assumes control of the titular Deadspike-san – a special attack of Ragna, the hero of the aforementioned BlazBlue series. When Ragna has been knocked out during combat, his faithful pet has decided to take matters into his own hands, attempting to drag his master while eating as much as possible to increase power.
It is worth mentioning that Deadspike-san is not the only playable character from the popular series of fighting games – during the gameplay we assume control of Ouroboros, the special move of Hazama, and Nirvana, who has joined the rivalry without a pre-determined goal.
Mechanics
Eat Beat Deadspike-san is a two-dimensional runner/rhythm game. Our hero is seen from a side perspective – the player presses L and R buttons to eat food placed on the ground. To achieve a good result, one needs good reflexes and a sense of rhythm – maintaining a good streak enables us to enter the Overdrive mode which multiplies our score and the amount of eaten calories. Each stage ends with a summary – good scores result in better notes and rewards.
Technical Aspects
The 2D graphics of Eat Beat Deadspike-san maintain a characteristic style seen in the BlazBlue series. The game contains twenty music tracks taken from the series.
Last updated on 14 March 2018
Game mode: single player
Age restrictions Eat Beat Deadspike-san: Good for all ages.