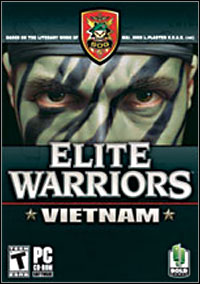 Elite Warriors: Vietnam
PC
A tactical action game played during the Vietnamese conflict. The player becomes a commando from the special department of Studies and Observations Group (SOG), which carried out the most difficult missions in the back of the enemy at that time.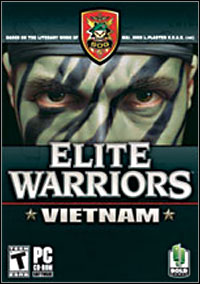 Game mode: single / multiplayer
Multiplayer mode: local network / Internet

game language: English
game release date for PC:
25March2005
Elite Warriors was developed in cooperation with former SOG member and best-selling author on this subject, Major John L. Plaster, U.S.A.R. (Ret) for the ultimate in authenticity and realism. Major Plaster served three one-year tours in SOG, eventually retiring as a major. He has instructed military snipers and has taught SWAT officers sharpshooting techniques. Major Plaster has been honored by the U.S. Army Special Operations Command at Fort Bragg, N.C., for his contributions to recording the history of Special Forces.
FEATURES:
- Campaign Mode - an all new way to play tactical shooters that injects strategy and RPG elements into the mission structure. You are a SOG squad leader, and it is up to you to plan each of the 8 missions and execute them:
Pick your 4-man squad from a roster of 30 highly trained special forces soldiers, each with a unique background and skill set.
Equip them based on their skills and the mission's requirement from an assortment of over 30 realistic weapons and items.
Set the squad's path through the jungle using a simple waypoint-placement system just like real SOG teams did (of course they used paper maps and pencil!). Using intelligence about enemy activity and the terrain set a path that avoids patrols but completes the mission on time.
After each mission you are given a score based on your performance, with the top ten scores saved to encourage re-play using different tactics.
Train your soldiers between missions to increase their stats, also medals are given out to squad members that perform especially well that bestow stat bonuses.
- 8 giant campaign missions - each one a series of smaller 3D mission maps in addition to the 2D strategic planning elements.
- Each mission was developed with the direct assistance of former SOG member and best-selling author, Major John L. Plaster.
- Multiplayer - Three games modes are included: Deathmatch, Team Deathmatch and Cooperative. Every weapon or item in the game can be used in multiplayer, including tear gas, air strikes and more.
- Incredibly detailed 3D jungles using nFusion's latest DirectX9 graphics engine.
- Over 40 3D models that can be used in multiplayer.
- Over 20 realistic Vietnam-era weapons, and more than 10 items that real SOG teams used (all of which can be used in multiplayer).
- Advanced enemy AI that attacks in groups, falls back and lies in ambush, uses the thick foliage to cover its advantage, snipes from secure locations and more.
- In-game Radial menu allows for much easier squad control.
- The RTS-like Overhead Command Mode makes giving your squad complex orders a breeze. Hit the assigned key and the camera zooms out, allowing control over the squad with mouse commands similar to an RTS game.
- Three camera modes - third person, first person and a zoomed-in over the shoulder view for careful aiming.
- Dramatic dynamic soundtrack and full 3D sound (including hardware accelerated 5.1 sound support).

Game score 6.8 / 10 calculated out of 192 players' votes.
Age Rating
age requirements: 12+
System requirements
PC / Windows
Recommended: Pentium III 866 MHz, 256 MB RAM, graphic card 32MB