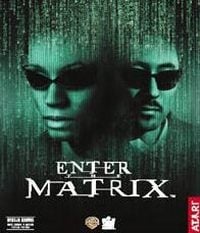 Enter The Matrix
An action adventure game set in the realities known from the legendary film Matrix, and what is more, based on a script written especially for it by the Wachowski brothers, Matrix filmmakers.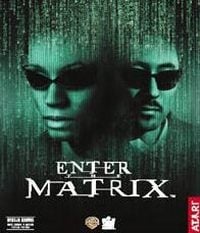 Merciless Agents stalk your every move. You'll dodge their bullets. Defy gravity. Break all the rules. Explore the hidden depths of the massive dreamworld that has enslaved the human race. How far down does the rabbit hole go? Are you ready to find out? Are you ready to Enter the Matrix?
Enter the Matrix features awesome gunplay and spectacular martial arts that bend the rules of the Matrix, insane driving and stunts, and the chance to pilot the fastest hovercraft in the fleet. This game isn't just set in the Matrix universe - it's an integral part of the entire Matrix experience, with a story that weaves in and out of The Matrix: Reloaded, the sequel to the Academy Award-winner. Enter the Matrix is the story-behind-the-story.
Enter the Matrix was developed under the creative direction of Matrix filmmakers Larry and Andy Wachowski. The unprecedented level of collaboration between Hollywood's hottest filmmakers and the award-winning Shiny Entertainment team promises to make Enter the Matrix a truly unique gaming experience.
* The game is based on a highly original blend of the key best selling console game genres. (Action/Exploration/Fighting/Driving.)
* The writer/directors of the Matrix movie trilogy, Andy and Larry Wachowski, wrote the game script and personally directed around one full hour of NEVER-BEFORE-SEEN Matrix footage exclusively for this video game. (Shot at full Hollywood quality using the same movie crew and actors.) The final experience is a seamless blend of gameplay, in-game cinematics and fresh new Matrix footage.
* The game stars all of the key characters from The Matrix Reloaded (likeness and voice over), including Neo (Keaanu Reeves), Trinity (Carrie-Anne Moss), Morpheus (Laurence Fishburne), Agent Smith (Hugo Weaving), Niobe (Jada Pinkett Smith), Ghost (Anthony Wong), Sparks (Lachy Hulme) and Persephone (Monica Bellucci.)
* The game has the truly authentic, photo-realistic Matrix look based on unparalleled collaboration with the actual movie making production crew. The fight sequences in the game are choreographed by Master Wo Ping (Crouching Tiger-Hidden Dragon, Iron Monkey) and his team of expert disciples. Just like he did in the movie, Wo Ping gives you the power to run on walls or take down a room of enemies without breaking a sweat.
* The game contains incredible visual effects including advanced particle engine and world destruction as seen in the Matrix movie.
* Players will see, only after playing the game, that their actions actually have an effect on the 2nd movie The Matrix Reloaded and when seeing the movie for the first time will realize how what they see actually ties in with the game they've played
* Same musicians in-movie AND in-game
* Same SoundFX in-movie AND in-game
PEGI Rating
System requirements
Recommended:
Pentium III 1.2 GHz
256MB RAM
64MB graphic card (GeForce 3 or better)
4.3 GB HDD