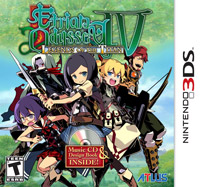 Etrian Odyssey IV: Legends of the Titan
3DS
The fourth installment of the popular series of jRPG games developed by studio Atlus since 2007. The new installment is, similarly as its predecessor, a typical example of its genre in which the player controls a group of heroes who explore dungeons and catacombs.
RPG | FPP | fantasy | turn-based | dungeon-crawler | classic RPG | Nintendo exclusive titles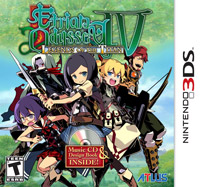 game release date for 3DS:
05July2012
The Etrian Odyssey series debuted on Nintendo portable consoles in 2007. Since then, three versions of the game have been released on the market. The fourth, like its predecessors, is a classic RPG, in which we lead a team of heroes while traversing unfriendly areas, just like in the Wizardry series.
The task of the players is to defeat successive dungeons and catacombs, which are full of hostile creatures. Clashes with them are fought in turn-based system. The console owner's team may include representatives of several professions, which are chosen at the beginning of the game. Apart from the classic ones, such as a medic and a knight, they are also less common in such productions as sniper and dancer. Players decide on the skills and appearance of the heroes before starting the adventure in an extensive editor.
Exploration of subsequent areas takes place in the style known from classic RPGs. The action is presented from the perspective of the first person, and on the screen are presented successive backgrounds and beasts to be defeated. The second screen of the console is used to display the map, which can be freely modified and supplemented with useful information.
The game world was prepared in 3D, and artists known in the Land of the Cherry Blossom, including Nizou Yamamoto and Shin Nagasawa, were invited to create it. The first one is responsible for the preparation of the background, the second for the projects of the monsters that stand in the way of the heroses.
Please let us know if you have any comments or suggestions regarding this description.
Similar games:
Age Rating
age requirements: 12+