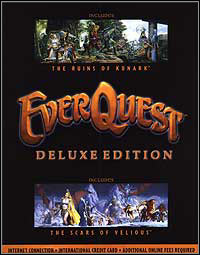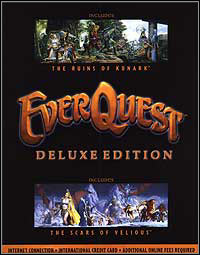 EverQuest Deluxe Edition
PC
EverQuest Deluxe Edition is a full version of one of the most popular massivelly multiplayer online cRPG games made by Verant Interactive, in addition to the basic version of the game containing two additions, The Ruins of Kunark and The Scars of Velious.
RPG | play for free | MMO
EverQuest Deluxe Edition

Release Date PC

15April2001
developer: Daybreak Game Company / Sony Online Entertainment publisher: Ubisoft Official website

game language: English
When game developers noticed the huge commercial success of the first Massive Multiplayer, which was Ultima Online, it was not necessary to wait long for their reaction. The next promising market was entered by Sony with its high-budget Everquest production. While Ultima Online is an example of the first generation of such games, and Asheron's Call is definitely the second generation, Everquest should be qualified for the "one and a half" generation. Having an opportunity to observe Ultima Online errors, Everquest producers managed to avoid most of them, but they have made many new problems with balancing different races and character classes.
Despite this game is still very popular, and highly developed characters can be bought at online auctions for prices sometimes exceeding 1000 USD. It may shock, but you have to remember that to create such a character it takes many months of playing at least a few hours a day, and for the game you have to pay 10 USD per month. The advantage of the game like any massive multiplayer is the ability to interact with thousands of other players from around the world and a unique for Everquest huge number of combinations of races and character classes, each game is completely different.
EverQuest Deluxe Edition is a full version of this game containing two add-ons that greatly expand the whole world. In addition to The Ruins of Kunark we get a whole new continent, called Kunark, located south of Faydwer. The player has access to a new breed of lizards, Iksar, and more than 20 new zones, ranging from beginner's seats to dragon's lairs.
The Scars of Velious expands the game by the freezing land of Velious, created by separating part of the Earth from the largest continent of Norrath. We get nineteen new zones, such as ice caves, crystal caves, crypts, underground or cold towers and completely new types of monsters. Additionally, in Deluxe Edition you will find: a special lizardmen Iksar figure, a poster from EverQuest game and a paper map of the whole world.
Please let us know if you have any comments or suggestions regarding this description.
Last updated on 10 December 2007
Game mode: massive online multiplayer Multiplayer mode: Internet Player counter: 1000+
Media type: 3 CD
User score: 7,6 / 10 based on 76 votes.
Age restrictions EverQuest Deluxe Edition: 12+
EverQuest Deluxe Edition System requirements
Recommended:
Pentium III 800 MHz
512 MB RAM
graphic card 32 MB (GeForce 2 or better)
1.5 GB HDD
Windows 98/Me/2000/XP
Internet connection