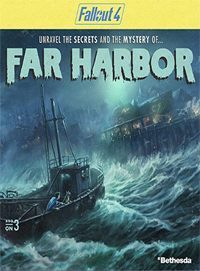 Far Harbor for PC, PS4 and XONE and other platforms is the third DLC for Fallout 4, a sandbox RPG. At the same time, it is the first major story expansion for the title. Just like in case of the vanilla game, the PC, PS4 and XONE version was developed by Bethesda Softworks.
Story
Having installed Far Harbor, the player goes back to Valentine's Detective Agency, where a new case awaits resolving. Following a trail of a missing girl, the protagonist leaves the Commonwealth and finds himself on the eponymous Far Harbor—a heavily radiated and vast island with a coastal town and a number of other locations. Soon after arrival, the protagonist engages into a conflict between three local factions: the synths (from the secret colony of the Institute), the Children of Atom, and the ordinary inhabitants of the isle. Weaving between the aforementioned groups, the hero tries to uncover then mysteries of Far Harbor and bring peace to it.
Gameplay
Far Harbor offers a vast region, the biggest of all that Bethesda created for an expansion to any of their games released to date. Apart from the town, there is a myriad of other locations to explore, including settlements to be developed, as well as undergrounds in which the player can take on a number of primary and secondary quests. Furthermore, Fallout 4: Far Harbor for PC, PS4 and XONE introduces previously unavailable enemies, weapons, armor, and other similar elements, as well. What is important, the add-on presents challenges of higher difficulty level than those from the vanilla game.
PEGI Rating
System requirements
PC / Windows
Recommended: Intel Core i7 4790 3.6 GHz/AMD FX-9590 4.7 GHz, 8 GB RAM, graphic card 3 GB GeForce GTX 780/4 GB Radeon R9 290X or better, Windows 7/8/10 64-bit
Minimum: Intel Core i5-2300 2.8 GHz/AMD Phenom II X4 945 3.0 GHz, 8 GB RAM, graphic card 2 GB GeForce GTX 550 Ti/Radeon 7870 or better, Windows 7/8/10 64-bit