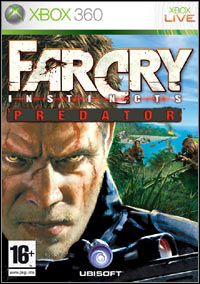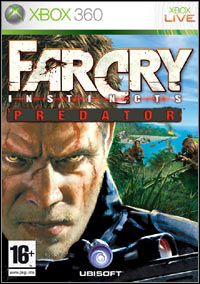 Far Cry Instincts Predator
X360
Far Cry Instincts Predator is a shooter created by programmers from the Ubisoft studio in Montreal. It combines the basic version of Far Cry Instincts with an extension called Evolution.
Action | FPP | sandbox | shooters | Xbox exclusive titles
Far Cry Instincts Predator

Release Date X360

28March2006
developer: Ubisoft publisher: Ubisoft Official website

game language: English
Far Cry Instincts Predator is a shooter created by Ubisoft Montreal Studio. This is a combination of the base Far Cry Instincts with its Evolution expansion.
The game once more takes you to the picturesque tropical islands of Micronesia, where you take on the role of Jack Carver, the character known from the previous installments of the series. This time the ex-commando gets into serious trouble, as he draws the attention of his old enemies – mercenaries and bloodthirsty pirates. Now, they are joined also by hostile natives. All them have only one goal – kill Jack. The man has to stay out of sight of his hunters, eliminating them guerilla style, as his main objective is to survive in the perilous jungle.
A wide arsenal of weapons comes in handy in that task, which includes various rifles, shotguns, knives, and even blowguns with poisoned arrows. There are also rocket launchers, Molotov cocktails, and high power bombs. In this interactive environment you can also use several vehicles – air glades, armored vehicles, and hovercrafts.
The authors of this FPS created brand new single-player missions set in six huge maps. As before, you can explore almost every inch of the islands – go wherever your eyes take you. The game structure is non-linear, giving you much influence on what is going on. The main hero has skills that get improved throughout the game. These are e.g. speed, agility, and Predator instinct that turns him from prey into hunter.
The visuals meet Xbox 360 standards. Therefore, you can admire realistic character animations, lavish vegetation, and crystal clean water reflecting sun beams. The improved version of CryEngine is able to maintain 60 frames per second in HDTV standard.
Far Cry Instincts Predator also features competitive multiplayer via Xbox Live. For this purpose, Ubisoft prepared 8 extra maps. These can be tested in several play modes: Chaos, Team Chaos, Steal the Sample, Seek and Secure and – a cherry on the top – intriguing Predator Mode. People who like to create their own maps can use the level editor that allows adding new buildings and weapons, as well as modifying the existing objects.
Game mode: single / multiplayer Multiplayer mode: Internet
Media type: 1 DVD
User score: 7,8 / 10 based on 242 votes.
PEGI rating Far Cry Instincts Predator
Far Cry Instincts Predator System requirements