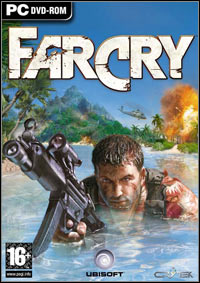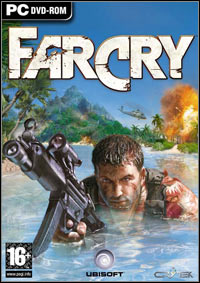 Far Cry
PC
A FPS set in tropical environment. Far Cry is the first commercial production in the history of the German Crytek studio. Jack Carver, the game's main character, is a retired commando, who currently runs a small haulage company.
Far Cry

Release Date PC

23March2004
developer: Crytek publisher: Ubisoft Official website

game language: English
At first, Far Cry seems to be just another FPS. But once we put that first impression aside, we face an amazing action game, which uses the astonishingly vast, open-world environment to its fullest extent. The line of sight alone reaches, according to the game's creators, over 800 meters, leaving other titles far behind as we look at fabulous exotic bays or overgrown jungle, breathtaking with the amount of details and the quality of its visuals.
Story
The main character, an ex-Green Beret, Jack Carver, wanted to break away from the life in a big city and established a small haulage business in the south Pacific. He was approached by a beautiful female reporter with a request to take her to Micronesia. Obviously, living in accordance with the old saying: you donít say ďnoĒ to a lady, our character accepts the job, as it looks like nothing more than a simple trip. Unfortunately, as soon as they arrive, his ship is shot and sunk by unknown, but well-armed group of militants, his good-looking client is gone, and Jack himself is left at the mercy of the islandís inhabitants. Suffice to say this includes more than hungry animals, and soon his sole main objective is to survive and find a way out of this hell on earth.
Gameplay
The tasks we can undertake in this expansive and varied area arenít imposed on us from the start. Players will encounter various problems or puzzles during the exploring, with some of them requiring certain conditions to be met before they can continue their journey in search for the lost reporter and means to escape the island. On the way they will visit dangerous jungles, overgrown with tropical plants, exotic beaches, which are the game trademark feature, and many more. Developers made sure to create interesting complexes of buildings and underground facilities. This is clearly visible when we have to choose the proper armament: sniper rifle will work perfectly in open spaces, eliminating targets from long distance. In rooms, however, a shotgun, devastating at short-range, is a much more efficient choice.
Equally interesting part of Far Cry are the enemies, or rather their AI, to be more precise, as the developers gave up on scripted actions and responses. Instead, opponents will respond to players' actions in real-time, as soon as they notice them. The tiniest rustle in the foliage or any strange noise will draw their attention like red rag dangling in front of a bull. They also arenít confined to certain areas and will make full use of the fact, hiding behind objects or coming at the player from several directions at once. Once they find his track, they might pursue him through the whole island. Furthermore, higher ranking officers can call for reinforcements to help them catch the runaway.
Game modes
In addition to an extensive single player campaign, Far Cry offers multiplayer. Players can face off against live opponents on various maps Ė closed or open Ė in one of several modes available (including Deathmatch or Capture the Flag).
Game mode: single / multiplayer Multiplayer mode: Internet
Media type: 1 DVD / 5 CD
User score: 8,5 / 10 based on 10387 votes.
PEGI rating Far Cry
Far Cry System requirements
Recommended:
Processor Pentium 4 2.4 GHz
512 MB RAM
graphic card 128MB (GeForce 4 or better)
4 GB HDD