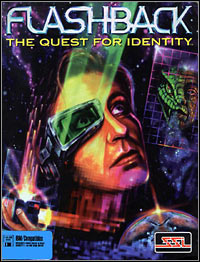 Flashback: The Quest For Identity
PC
Two-dimensional adventure and arcade game, reminiscent from the strictly technical side of such programs as Another World (the same developer - Delphine Software) and Prince of Persia.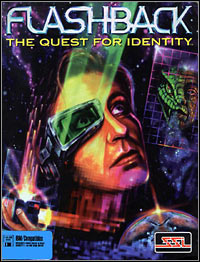 game language: English
game release date for PC:
12September1993
The game will allow us to play the role of Conrad B. Harta, a brilliant scientist who during routine research becomes the author of a terrifying discovery: the Earth has been haunted by alien creatures capable of changing their appearance. Our hero wants to share shocking information with the appropriate authority, but due to corrupt police action he has to flee the city. During the chase, an air motorcycle is shot down and our hero, with an amnesia after an accident, ends up in the jungle. As you can easily guess, it is us who will have the honour of saving the celestial planet from the cosmic race of Morphs.
Flashback is an adventure arcade game, unofficially called Another World sequel, which is a kind of a mistaken claim, because the storylines of both games have nothing to do with each other. On the other hand, the way of presenting the action (we see our hero from the side), as well as the control, although the latter has been significantly expanded in relation to the original. Conrad can perform a number of breakneck evolutions, both with and without weapons, which undoubtedly has a positive effect on realism. The game contains a large number of typically arcade elements, every now and then you will have to jump on various platforms and fight your opponents, although it would be unfair to say that the game boils down only to that. We have here many elements characteristic of adventures, such as collecting objects and their use, or conversations with encountered characters.
The game is divided into successive stages in three fantastic worlds. A password can be obtained for each segment, so that the player is not forced to start each time from the beginning. There is no option of recording the state of the game as such, you can only save your position in a given stage and in case of death start further struggle from a specially designated for this purpose point. Flashback also offers three difficulty levels to increase the number of opponents.
All characters in the game are perfectly animated and hand painted backgrounds are equally inviting. The game contains about seventy-five short film interludes. Generally, both graphics and sound are at a very high level, as in other Delphine Software games from that period.
Please let us know if you have any comments or suggestions regarding this description.

Game score 8.5 / 10 calculated out of 253 players' votes.
Age Rating
age requirements: everyone