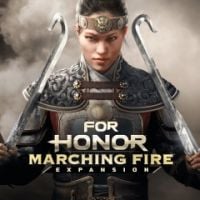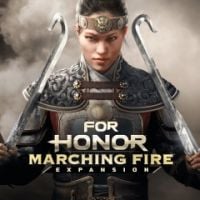 For Honor: Marching Fire
A paid add-on to the online action game For Honor, which enriches this production with Chinese faction Wu Lin, two game modes and improves the graphic design. The authors of the basic version, the French company Ubisoft, are responsible for Marching Fire.
This is For Honor expansion pack.
Action | TPP | the middle ages | network | co-op | alternative history | China
For Honor: Marching Fire is the first paid DLC to the 2017 online action game For Honor. The title introduces a completely new faction, the Chinese Wu Lin. We are also getting a few new game modes and visual improvements. Ubisoft is responsible for developing the add-on. The team has also created the basic version of the game and has been consistently developing this title since its release.
Mechanics
The biggest novelty in For Honor: Marching Fire is the new Wu Lin faction. It consists of four warriors with skills and fighting style inspired by ancient China.
Shaolin, or Wei Chang, is a brave monk who belongs to the Hybrid class. In combat, he uses a staff and his athletic, trained body. In his fighting style we can see clear kung fu inspirations.
Tiandi (the real name of the male version is Shidou, while the woman is called Ying) is a defender of the rulers, equipped with heavy armor and a curved Dao sword. Despite the armor, Tiandi is able to avoid opponent's blows and throw them off balance with kicks or blows of the hand.
Jaing Jun (Guan Yu) belongs to the Heavy class. He is a specialist in AoE attacks and he is very good at dealing with several enemies at once - mainly due to the long-range of his weapon (a kind of halberd called Guandao). With a special stance - Sifu Balance - Jun can also regenerate endurance faster than other warriors and avoid blows to launch deadly counterattacks.
The last new fighter is Nuxia named Lin Yao. She is a typical Assassin - fast, agile and deadly on the offensive. Her unique skill is setting traps for enemies (she can perform feints after which she traps the opponent's weapon in her Shuang gou). She can also counterattack efficiently right after a fake out rebound.
Game modes
For Honor: Marching Fire introduces two new game modes. The first one is Assault - it's a PvP module, in which we participate in the siege of a fortress (three new maps have been made available to the players) and we use siege/defense equipment (e.g. battering ram, boilers with tar and ballistae). The second is the Infinite PvE mode, which offers content for a single player or two people playing in cooperation (we fight against AI-controlled opponents).
Technical aspects
For Honor: Marching Fire introduces a few changes in visuals of the base version of the game. Fixed textures and engine for global lighting. Another thing is the new way the sky and clouds are displayed, as well as changed time of day or decoration of some of the maps.
Game mode: single / multiplayer Multiplayer mode: Internet Player counter: 1-8
Age restrictions For Honor: Marching Fire: 18+
For Honor: Marching Fire System requirements
Minimum:
Intel Core i3-550 3.2 GHz / AMD Phenom II X4 955 3.2 GHz
4 GB RAM
graphic card 2 GB GeForce GTX 660 / Radeon HD 6970 or better
40 GB HDD
Windows 7/8.1/10 64-bit
Recommended:
Intel Core i5-2500K 3.3 GHz / AMD FX-6350 3.9 GHz
8 GB RAM
graphic card 4 GB GeForce GTX 770 / 3 GB Radeon R9 280X or better
40 GB HDD
Windows 7/8.1/10 64-bit