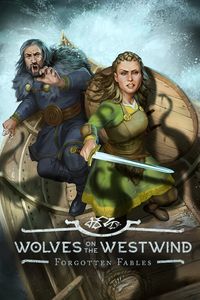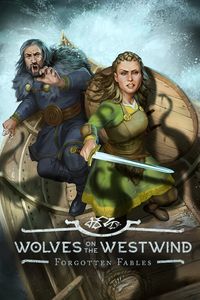 Forgotten Fables: Wolves on the Westwind
Visual novel with RPG elements, set in a fantastic universe created for The Dark Eye system. In Forgotten Fables: Wolves on the Westwind we play as two characters whose adventures and decisions they make will shape the future of the entire land.
Adventure | fantasy | RPG elements | 2D | visual novel | indie games
Forgotten Fables: Wolves on the Westwind is a visual novel with RPG elements, set in the universe created for the German system The Dark Eye (original: Das Schwarze Auge). It was developed in cooperation with Owned by Gravity and Ulysses Digital.
Plot
Forgotten Fables: Wolves on the Westwind takes us on a journey to fantasy land of Aventuria, to be exact - to Thorwal located in the north, over which hangs a threat from long forgotten, dark forces. Alrik, a veteran warrior, and Nedime, a young sorceress, cross the sea on their way to the city of Isleifsfell and unexpectedly find themselves in the midst of chaos. Their actions and decisions will shape not only their future, but that of Thorwal as a whole. Along the way the protagonists may gain various allies such as the children of the Hetman of Isleifsfell or a mysterious elf.
Game mechanics
In Forgotten Fables: Wolves on the Westwind we mainly follow the storyline, conduct numerous conversations and complete the tasks pushing the story forward (which are accompanied by side quests). Apart from that we make decisions which shape the further course of the story and influence its ending. What is more, while exploring the game world on board of a ship called Keenwolf and visiting various locations, we get to know the inhabitants of the northern borderlands of Aventuria, who can join us or, on the contrary, become our bitter enemies..=
To make the story go as we want it to, we have to skillfully exploit the strengths of each of the protagonists and make good use of their individual skills. As not all problems can be solved with words, from time to time there is also a fight. Battles are presented in a form similar to dialogues, and how our character will fare on the battlefield depends both on our stats and the choices we make (sometimes it's worth being patient to attack at the right moment).
Technical aspects
Forgotten Fables: Wolves on the Westwind features high quality graphics. Both the 2D models of the characters and the backgrounds behind them in the subsequent scenes are pleasing to the eye with their cartoonish style and various details. The game takes place to the accompaniment of an atmospheric soundtrack bringing to mind the Middle Ages.
Game mode: single player
Expectations: / 10 based on 1 votes.
Age restrictions Forgotten Fables: Wolves on the Westwind: 12+
Forgotten Fables: Wolves on the Westwind System requirements
Minimum:
Dual Core
8 GB RAM
graphic card 1 GB GeForce GTX 460 or better
1 GB HDD
Windows 7 SP1 64-bit
Recommended:
Dual Core 3.0 GHz
16 GB RAM
graphic card 2 GB GeForce GTX 760 or better
1 GB HDD
Windows 10 64-bit