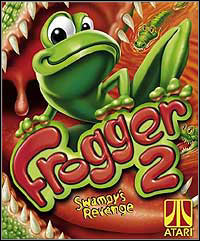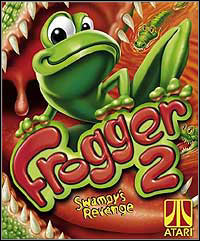 Frogger 2: Swampy's Revenge
PC
Refreshed continuation of the famous arcade game about the adventures of the title frog, by Blitz Games. Frogger and his friend Lillie Frog must save the little frogs who were abducted by the crocodile muddy.
Frogger 2: Swampy's Revenge

Release Date PC

16September2000
developer: Blitz Games publisher: Hasbro Interactive Official website

game language: English
Swampy the Crocodile and Frogger have never gotten along. Frogger always got the glory and Swampy got the gloom. Now Swampy has run off with the poor lost Frog Babies and it's up to Frogger to get them back!
Jump into it! It's fast and furious action from start to finish for Frogger and his new friend, Lillie Frog. Help them save all the Frog Babies as you journey through incredible new 3-D worlds filled with crazy obstacles, fun power-ups and menacing enemies.
All new addictive fun! Play in competitive new multiplayer modes, unearth hidden secrets and compete for top times! This is the best Frogger ever!
Once Upon a Time..we find our hero Frogger basking in the sunshine, deep in the heart of Pondworld. He and his girlfriend Lillie lounge on a lillypad, looking after their huge family of baby frogs unaware that the evil Swampy the crocodile seeks revenge and is close by.
Swampy sneaks around Pondworld, gathering up the baby frogs one by one, unnoticed by Frogger and Lillie. He scurries away to his hideout with a sack full of babies in order to continue his master plan to take over the whole of Pondworld.
Frogger and Lillie Frog are soon in hot pursuit as they chase after Swampy through the hazardous worlds beyond. Their journey takes them through Gardenworld, Ancientworld, through to the far reaches of space, 'till they beam down into the haunted lands of Halloweenworld and on to Swampy's hideout.
Once more Frogger and Lillie must put an end to the foul villainy of Swampy in a final showdown, frog against crocodile.
Game mode: single / multiplayer Multiplayer mode: Player counter: 1 - 2
Media type: 1 CD
User score: 8,5 / 10 based on 506 votes.
Age restrictions Frogger 2: Swampy's Revenge: Good for all ages.
Frogger 2: Swampy's Revenge System requirements
Recommended:
Pentium 233MHz
32MB RAM
graphic card