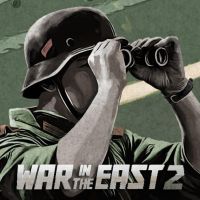 Game mode: single / multiplayer
Multiplayer mode: E-mail, players: 1-2

game language: English
game release date for PC:
25March2021
Gary Grigsby's War in the East 2 is a complex turn-based strategy game set during World War II. The production represents the series started in 2002 and at the same time is a continuation of Gary Grigsby's War in the East: The German-Soviet War 1941-1945, released in December 2010. 2BY3 Games, the studio overseeing the development of the series, was responsible for the title and Gary Grigsby, an industry veteran specializing in the creation of war strategies, took care of it.
Storyline
Gary Grigsby's War in the East 2 takes us on a journey to the Eastern Front of World War II. Over the course of three sprawling campaigns and seven smaller scenarios, the production presents the total war between the Third Reich and the Soviet Union, allowing you to take part in the most important events of the period - from Operation Barbarossa, to the Soviet counter-offensive, to the fall of Berlin.
Mechanics
Gary Grigsby's War in the East 2 takes place in turn-based gameplay on a vast map covered in a grid of hexes. During the course of the game we carry out military operations with the participation of land and air units, performing various tasks resulting from the operation in which we participate at a given moment.
As was the case with other games in the series, the authors have done their best to recreate the realities of World War II as closely as possible. This includes, above all, a realistic presentation of the specifics of individual units, the impact of terrain on their capabilities, as well as how economics and the economy or even the morale of soldiers translate into our opportunities at the front. Despite the fact that the previous installment of the series could already impress with its level of realism and expansion, its continuation is a significant step forward in almost every respect. Among the most noteworthy changes are the improved artificial intelligence of enemies, a more detailed map (especially rail and road networks), and an improved logistics system; in addition, numerous interface improvements have been made.
Thegame comes with a 520-page manual that covers everything that's new in the game, as well as detailing the various aspects of the game and offering tips on tactics used on the battlefield.
Game Modes
Gary Grigsby's War in the East 2 can be played solo or in multiplayer (PBEM). The backbone of the game are three expansive story campaigns. The first of them covers the actions on the Eastern Front in the years 1941-1945, the second focuses on the Red Army's march from Stalingrad to Berlin (1942-1945), while the third - on the Vistula-Oder Operation (January-June 1945). In addition, the game features seven scenarios focusing on specific battles or smaller-scale operations.
Technical issues
In Gary Grigsby's War in the East 2 , the visuals play a secondary role, so they are very conventional.
Age Rating
age requirements: brak danych