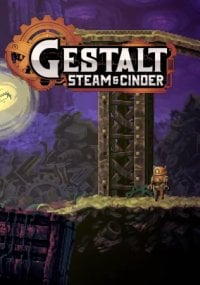 Gestalt: Steam & Cinder is a platform game with RPG elements, inspired by the 16-and 32-bit classics. The game was developed by an independent studio Metamorphosis Games, while its release was handled by Sold Out.
Plot
Gestalt: Steam & Cinder takes us to the steampunk universe, more precisely - to the city of Canaan, which is the last bastion of humanity. During the game, we play the role of a heroine named Aletheia. Aletheia accidentally led to the release of energy, which awakened long dormant machines threatening the entire population of the metropolis. Fortunately, this has given the girl supernatural abilities that allow her not only to face a new threat, but also to discover Canaan's dark secrets, led by the true intentions of his corrupt supervisors known as the Comitium.
Mechanics
In Gestalt: Steam & Cinder, we observe the action from the side. The driving force of the game are the tasks that push the story forward; in addition, various side missions are waiting to be completed. By talking to NPCs, Aletheia makes choices that shape her future as well as affect the lives of the other residents.
During the game, we will go through various stages, among which we will find, among others, the bustling streets of the city and the Scrap Sea , which is a giant dump. The next levels are full of enemies, with whom we have dynamic and spectacular fights. On Aletheia's path stand all sorts of machines - from robots lower than a man, to mechanical giants that act as bosses. The heroine faces them, making use of white weapons (attacks can be combined into spectacular combos) and a revolver allowing her to keep enemies at a safe distance. As we progress, we gain experience and move to new levels, gradually increasing the combat potential of the heroine, developing her statistics and discovering new skills.
Technical aspects
The graphic design of Gestalt: Steam & Cinder was created in a colourful, pixelart style. The grpahics is detailed - the locations enjoy small details; various animations of attacks and elimination of enemies can also be enjoyed.
System requirements
PC / Windows
Minimum: Intel Core 2 Duo E8400 3.0 GHz / AMD Phenom II X2 550 3.1 GHz, 4 GB RAM, graphic card 896 MB GeForce GTX 260 / 1 GB Radeon HD 4850 or better, 4 GB HDD, Windows 7 64-bit