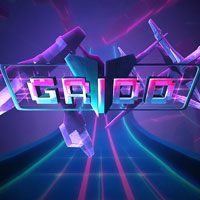 GRIDD: Retroenhanced is a rail shooter game developed by the independent Italian Antab Studio. Among other platforms, the game is available on PC and XONE.
Plot
GRIDD: Retroenhanced for PC and XONE draws its inspirations from both cyberpunk and hacker cultures of the 1980s. A player assumes the role of battle ship operator traveling a neon virtual reality with the task to beat a computer defensive system and defeat the dangerous Artificial Intelligence.
Mechanics
In the PC and XONE release of GRIDD: Retroenhanced a player observes the action from the third-person perspective (TPP). On their journey, players have to complete procedurally generated tracks and fight hordes of adversaries. As the ship a player controls continuously moves forward one's role is limited to maneuvering up and down, dodging the enemies, collecting power-ups (such as temporary afterburners), and targeting weak spots of particular adversaries.
Game modes
Apart from the Arcade Mode, in which the difficulty level is being continuously adjusted to player's skills, GRIDD: Retroenhanced offers the so-called Endless Mode, in which a player has to fight off countless hordes of enemies. Interestingly enough, one's actions are monitored by the scoring system, thus a player can share their achievements via the online ranking boards.
Technical aspects
The PC and XONE release of GRIDD: Retroenhanced features 3D visual following the convention of the iconic to some movie TRON: Legacy. The game is well complemented by the dedicated synth wave soundtrack.
Similar games:
Age Rating
age requirements: everyone