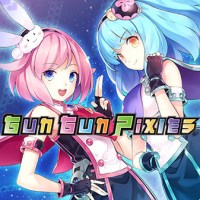 Gun Gun Pixies is a colourful combination of a third person shooter and a 3D platformer. The game was developed by the Japanese studio called Shade (also known for creating such series as Bullet Girls) in cooperation with Compile Heart and Idea Factory, which for years have specialized in creating jRPG games for such series as Hyperdimension Neptunia. Gun Gun Pixies was released first on PlayStation Vita and then on the remaining stationary platforms.
Plot
The main protegonists of the game are Bee-tan and Kame-pon who come out of this world. They were sent on a reconaissance mission from their homeworld called Pixie withe the task to investigate the behaviour and customs of ordinary people. This information is to be used to solve the social problems that afflict their race. The fact that the protagonists are only a few centimetres tall makes the task a little more difficult. While completing their mission, the protagonists head for a female dorm that is inhabited by five different girls.
Mechanics
During the game, players explore all the dormitory rooms. The action is shown from the third person perspective. Players' task is to shoot at selected points on the body of girls, which, depending on the situation, can for example drip, practice yoga or study at the desk. After giving each shoot, the missiles are heading in player's direction, and have to be avoided. The game also places great emphasis on platform elements. Players sometimes have to jump between pieces of furniture and elements of the environment in order to reach their destination. Occasionally players are forced to sneak up when there is one of the tenants nearby. The characters must then crouch and try not to attract attention.
Technical aspects
Gun Gun Pixies has simple 3D visuals with a limited number of animations and basic special effects resulting from a relatively small development budget. All the characters in the game were modelled after Japanese actresses.
Similar games:
PEGI Rating
System requirements
PC / Windows
Recommended: Intel Core i7-8700 4.6 GHz, 8 GB RAM, graphic card 4 GB GeForce GTX 1050 / Radeon RX 550 or better, 4 GB HDD, Windows 10 64-bit
Minimum: Intel Core i5-5257U 3.1 GHz, 4 GB RAM, graphic card 1 GB GeForce GTX 650 / Radeon HD 7700 or better, 4 GB HDD, Windows 10 64-bit