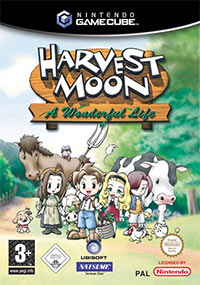 Harvest Moon: A Wonderful Life
GCN
In Harvest Moon: A Wonderful Life, we play the role of a young man who one day received a farm from his father. Our task is to maintain the farm, as well as perform various tasks for the characters and neighbors we meet.
RPG | Economic | farm | life Simulator | jRPG | Nintendo exclusive titles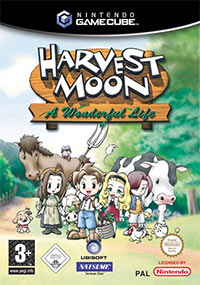 game language: English
game release date for GCN:
16March2004
Natsume seldom gets credit for one of the most brilliant innovations in the history of RPGs. As with many great ideas, it's amazingly simple. Instead of a hero who wanders the world, the hero of the Harvest Moon games stays put. And instead of slaying monsters and saving a world, the Harvest Moon raises cows, hangs out with his neighbors and raises a family. Not exactly earth-shattering stuff, but no one can deny how satisfying these games can be.
In Harvest Moon: A Wonderful Life, you arrive at your late father's derelict farm in Forget-Me-Not Valley. Your entire patrimony consists of a humble house, a barn with one cow, a pasture, three fallow fields and an empty chicken coop. When your father's longtime friend Takakura shows you around, you'll gain a companion when a cute li'l puppy shows up. Takakura lives nearby and offers periodic advice, but it's up to you to make a prosperous go of things.
Features
* Six chapters cover 30 years
* Visit and trade with 40 new characters, including a rich family with a butler, world-traveling innkeepers, a brooding artist, a scatter-brained scientist and balding brothers who make fireworks
* Visit and trade with townsfolk, celebrate seasonal festivals, dig up rare items at an archeology site, even consort with Harvest Sprites dwelling in a tree!
* Also new: goats, ducks, a new way to cook and the ability to grow hybrid fruits and vegetables
* Woo and marry a bachelorette, raise a child, guide him into one of six careers
* Connect with Harvest Moon: Friends of Mineral Town GBA to visit Mineral Town; your character in the GBA game can visit Forget-Me-Not Valley
Each year spans four 10-day seasons. In your first spring, you'll learn the basics of milking and caring for your cow, then leaving the milk for Takakura to sell in town for you. Visit gruff Vesta to buy tomato and watermelon seeds, then plant and tend them. On rainy days, visit the Forest Sprites dwelling in a tree by the waterfall.
Try to get to know as many townspeople as possible. In your off-hours, hang out at the Blue Bar, enjoying Griffin's energy-restoring concoctions, or head up to the villa to visit Romana, her granddaughter Lumina and loyal butler Sebastian. If you don't find someone at home, they're almost certainly out getting fresh air.
Pluck flowers and offer them to just about everyone you meet; some will reject them, but even the twin pyrotechnicians (makers of fireworks) like 'em. Experiment with your giving: various folk prefer milk, crops, fish and even the relics you dig up at the nearby archeological site.
Traveling merchant Van rolls into town on the third and eighth day of each season. Take him produce, archeological finds and just about anything else you want to get rid of. Van drives tough bargains, but he's also the only source for the valuable brush (for keeping your livestock clean and happy) and fishing pole.
Come summer, Takakura will give you a wonderful present: a tawny horse. Care for CBiskit (or whatever you decide to name it) and it will save you incredible amounts of time, scooting here, there and everywhere in Forget-Me-Not Valley.
But even with horsey's help, you'll still have to spend hours (in game time, that is) watering and fertilizing your crops. Sure: In real life, farm work can be very tedious. But since Harvest Moon doesn't try to be a superrealistic sim, why make the job of tending crops so time-consuming?
Less annoying, but irksome nevertheless, is the overly fussy context-sensitive controls. To talk with a neighbor, you have to stand in his or her way and wait until the A Button flashes 'Talk.' Problem is, if you don't push quickly enough, your uncomprehending neighbor will plow by like a NASCAR driver at Talladega. So you have to scurry into their path again.
Harvest Moon's graphics are, like the game itself, simple but sturdy. Wisely, the developers have devoted much time to perfecting the weather effects. You'll relish the realistic rain, rain, sunsets and clouds gathering over the sea.
At the end of the first year, you'll pick a wife -- or one will pick you. As the years roll by, you'll build up your farm, raise your family and continue communing with your neighbors.

Game score 7.9 / 10 calculated out of 120 players' votes.
Similar games:
PEGI Rating
System requirements