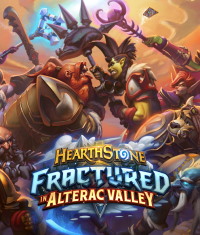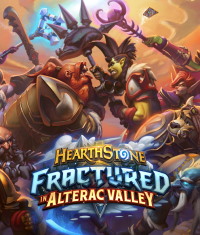 Hearthstone: Fractured in Alterac Valley
Another expansion for the famous card game, the last one to be released in Year of the Gryphon. Hearthstone: Fractured in Alterac Valley introduces 135 new cards and focuses on the battle between the Alliance and Horde forces in the iconic valley from World of Warcraft.
This is Hearthstone expansion pack.
Puzzle | fantasy | card games | network
Hearthstone: Fractured in Alterac Valley is the next expansion for Hearthstone, the last one to be released as part of the Year of the Gryphon. It focuses on a massive conflict between the Alliance and Horde forces, where players will decide who wins the war.
Plot
As always in Hearthstone, the story is just a background to the gameplay. This time the action of the add-on is centered around the Alterac Valley, where orcs from the Frostwolves and dwarves from the Stormpike clan have been fighting for years over a certain ice-covered piece of the battlefield. The reason for such jealousy is Naaru , which covered the area. We become mercenaries in this conflict and choose which side we will support. This influences the special golden card we receive at the beginning of the game: the Horde allies get the shaman Drek'Tara and the Alliance allies get the king of the mountains, Vanndar Stormpike.
Game mechanics
The add-on focuses on adding up the results of the clashes fought by the players, which will determine the winner of the battle for Alterac. Following the tradition of Hearthstone expansions, Fractured also introduces 135 new cards and several minor mechanics. The first of these is the ability to turn a mercenary card that has left the battlefield into a hero card. Each hero has the powerful ability of a Battle Cry and one additional effect, giving them an advantage on the battlefield. The second is Honorable Kills: these involve putting an additional effect on a player if they inflict the required amount of damage on the corresponding target (only if the card you made the move with has the Honorable Kill keyword). The last new feature is Objectives: new spells that work for 3 turns are called that.
Game modes
The expansion does not introduce any new game modes. So the gameplay is still based on clashes between two players.
Technical aspects
In terms of graphics the expansion is on the same level as the basic version of the game and earlier additions. Once again, we also received many cards detailing new characters.
Game mode: single / multiplayer Multiplayer mode: Internet
PEGI rating Hearthstone: Fractured in Alterac Valley
Hearthstone: Fractured in Alterac Valley System requirements
Minimum:
Intel Pentium D 2.0 GHz / AMD Athlon 64 X2 2.0 GHz
3 GB RAM
graphic card 256 MB GeForce 8600 GT / Radeon HD 2600 XT or better
Windows 7/8/10
Recommended:
Intel Core 2 Duo E6600 2.2 GHz / AMD Athlon 64 X2 2.6 GHz
4 GB RAM
graphic card 512 MB GeForce GT 240 / Radeon HD 4850 or better
Windows 7/8/10