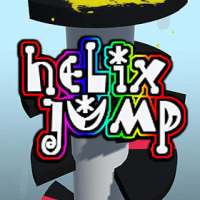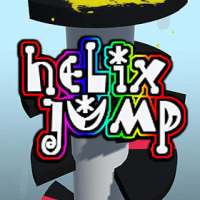 Helix Jump
A simple arcade game. While playing Helix Jump we turn a cylinder, around which there are numerous flat platforms. Our task is to ensure that the ball bounces off of these platforms and reaches the very bottom of the structure.
Helix Jump is a straightforward arcade game developed by Voodoo. The production utilizes a free-to-play model with microtransactions.
Mechanics
Helix Jump consists of a series of stages with an increasing level of difficulty. During the game we turn a cylinder, around which there are mobile flat surfaces. Our task is to control this structure in such a way that the ball bounces from these platforms and finds its way down to the very bottom. This is complicated by the fact that we have to avoid all colourful surfaces (landing on one of them automatically ends the game). However, there also power-ups which will make our job easier, by allowing us to, e.g. break through several platforms in a row, regardless of their color. The points which we earn during the game allow us to unlock new cosmetic items.
Technical aspects
Helix Jump has simple, colorful graphics that are very pleasing to the eye.
Game mode: single player
App size:
Age restrictions Helix Jump: 12+