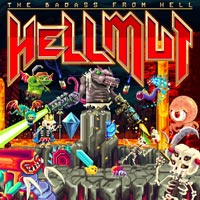 Hellmut: The Badass from Hell
A 2D dungeon crawler about fighting demons. In Hellmut: The Badass from Hell, the players control various characters unlocked during the game. The gameplay itself is fast, intensive, and difficult.
Arcade | 2D | dungeon-crawler | indie games | shoot 'em up | shooters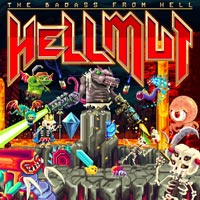 Hellmut: The Badass from Hell is a debut-project by Volcanicc – the team of two developers from Slovakia.
Plot
The game features a simple story which only serves as an excuse for killing demons. The gates of Hell have been opened and you are the humanity's only hope. During gameplay, the players assume the role of an immortal hero who has to kill as many enemies as possible in order to get his body parts back and, at the same time, save the world.
Mechanics
Hellmut: The Badass from Hell is an arcade shooter with the top-down perspective. However, this is not a classic shooter, as the title features a number of dungeon crawler elements. Each level and boss is generated procedurally, so it is not possible to learn effective tactics by heart. Therefore, the game rewards mostly for performing skilful manoeuvres. Gameplay is difficult and death is frequent. After each defeat, you need to start the story from the beginning, but if you can learn from mistakes, you will progress further with each attempt.
The creators implemented interesting mechanics. Every time you finish the game, new transformations of the hero are available, and they can be switched during gameplay. This makes things a bit easier, as each unlocked hero has different skills (one uses a flamethrower, another a rifle, and yet another… a cat), so you can adjust the strategy depending on the challenge.
Technical aspects
The visuals of Hellmut: The Badass from Hell are decent. Even though the game utilises the pixel art technique, it has its own, funny, colourful, and distinctive style, which makes it stand out from the crowd.
Age Rating
age requirements: 16+
System requirements
Minimum: Intel Pentium 4 1.2 GHz, 4 GB RAM, graphic card Intel HD 4600 or better, 2 GB HDD, Windows 7/8/10 64-bit
Recommended: Intel Core i5 2.5 GHz, 8 GB RAM, graphic card 2 GB GeForce GTX 680 or better, 2 GB HDD, Windows 10 64-bit