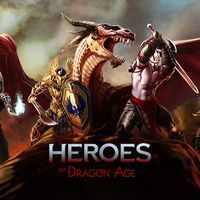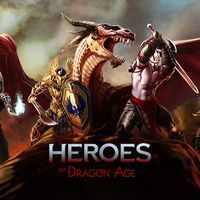 Heroes of Dragon Age
A miniature wargame, set in the fantasy universe of the popular RPG series by BioWare. The title is based on the free-to-play model with microtransactions and was developed by EA Capital Games.
Strategy | fantasy | play for free | PvP | Facebook | Figure
Heroes of Dragon Age, released on AND, iOS and browsers, is a figure battle game set in the universe of the popular BioWare RPG series. The game was developed by EA Capital Games - a branch of the Canadian giant specializing in the production of mobile games.
Mechanics
In Heroes of Dragon Age, we can create our own team of heroes, collecting lively figures of characters known from the fully-fledged versions of the series. Each team can consist of up to five heroes, four of which can be exchanged freely during the game, and one seat is reserved for a special character (e.g. a huge bear or Ent), who is assigned to the squad permanently. Each character belongs to one of several classes and is described by three basic attributes: strength, endurance and agility. Some also have special abilities, such as dealing damage to several enemies at once. The next heroes are gradually discovered during the game, acquiring randomly selected character packets for the currency gained in the game.
Successive skirmishes are part of the story campaign, which consists of moving between locations and overcoming new challenges. The individual scenarios are not interlinked and present a number of alternative stories from the Dragon Age universe. The fights are played automatically and the role of the player is limited to the selection of team members and choosing the optimal combat formation. If we fail, we can repeat each of the available scenarios many times - we can try different formations and configurations of heroes. During the next fights, the characters gain experience, allowing them to advance to higher levels. We can also gain them by sacrificing other heroes or by combining two units into an upgraded unit.
Game modes
In addition to playing alone, the title also allows you to compete in PvP mode, thanks to a large number of online challenges, divided into several difficulty levels.
Technical aspects
Heroes of Dragon Age is characterized by high-quality 3D graphics, full of animations and special effects and a solid soundtrack, maintained in the atmosphere of the series. The game is distributed in a free-to-play model, and the main limitation for players is the depletion of energy with each fight (separate for PvE and PvP modes). The in-game microtransactions are not necessary, but thanks to them we can quickly replenish energy reserves or purchase additional packs of unique heroes. It is also worth noting that along with subsequent updates, the creators introduce new characters to the game - including those features in games released after Heroes of Dragon Age's release.
Last updated on 29 December 2014
Game mode: single / multiplayer Multiplayer mode: Internet
App size:
Age restrictions Heroes of Dragon Age: 12+
Heroes of Dragon Age System requirements
Additional information:
Internet connection is required
Additional information:
Internet connection is required