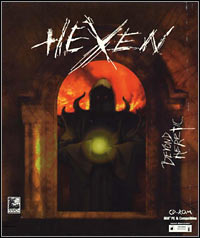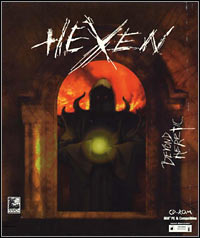 Hexen: Beyond Heretic
PC
Hexen FPS is an official continuation of Heretica published in 1994. Technically, this is one of the most advanced titles using the Dooma engine. The action takes place in a fantasy world, so in the fight against enemies we use mainly spells and medieval-style weaponry.
Hexen: Beyond Heretic

Release Date PC

30March1995
developer: Raven Software publisher: id Software

game language: English
Raven Software's HeXen actually began development as an expansion for Heretic that was originally slated to hit the shelves as Heretic II. However, the game design so expanded beyond the original game that this proposed the expansion of the Heretic universe took on a bold new identity of its own...HeXen: Beyond Heretic.
HeXen was developed over a period of 8 months, published by Id Software and distributed by GT Interactive in 1995. The game introduced the 3-D gaming world to the hub system of level progression, rotating polygonal brushes and multiple character classes that were available in both single player and multiplayer. All of this combined to help HeXen raise the bar for the first-person shooter genre. HeXen pushed Id Software's DooM engine to its absolute limits and surpassed Heretic as Raven Software's most popular, highly acclaimed title.
The success of HeXen prompted a mission pack, Deathkings of the Dark Citadel, and several ports to home console gaming systems including the Sega Saturn, Nintendo 64 and the Sony PlayStation. HeXen also became the first Raven Software game made available for the Macintosh.
Game mode: single / multiplayer
User score: 7,7 / 10 based on 249 votes.
Age restrictions Hexen: Beyond Heretic: 16+
Hexen: Beyond Heretic System requirements
Recommended:
PC 486DX2 66MHz
8MB RAM