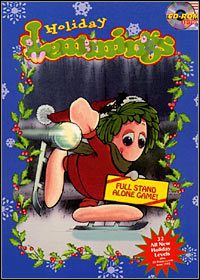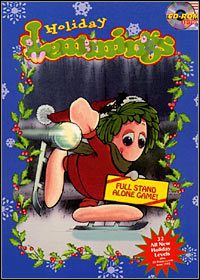 Holiday Lemmings 1993
PC
Named Holiday Lemmings, Psygnosis's company is used to denote special editions of lemmings adventures, stylized for the Christmas period. Games from this series are not excessively developed, they contain just a dozen or so boards, but more difficult ones are not usually.
Holiday Lemmings 1993

Release Date PC

20December1993
developer: DMA Design publisher: Psygnosis

game language: English
Holiday Lemmings is the name that Psygnosis gave to the special Holiday edition of the games from the Lemmings series. Although not very extensive, these side installments are more difficult than the main ones.
Even at the first glance, it is clear that the lemmings have undergone a small metamorphosis. They don't wear blue doublets anymore - instead, they have Santa-like clothes and their green shag is hidden underneath a Santa hat. Apart from that, the scenery is different as well. There is a lot of snow, ice and Holiday-themed items all throughout the levels. Even the soundtrack has changed accordingly - we can hear the most popular Christmas carols. The rest, meaning the gameplay rules, remains pretty much the same: save the given amount of lemmings by helping them to reach the level exit.
Holiday Lemmings 1993 contains 32 levels divided into 2 difficulty levels: Flurry and Blitz. The former shouldn't be a problem to anyone as the consecutive levels are very easy. The latter, however, can pose a great challenge - difficulty-wise, the game equals the final levels of the original Lemmings and Oh No! More Lemmings.
Last updated on 06 April 2015
Game mode: single player
User score: 6,4 / 10 based on 29 votes.
Age restrictions Holiday Lemmings 1993: Good for all ages.
Holiday Lemmings 1993 System requirements
Recommended:
286
640 KB RAM
VGA