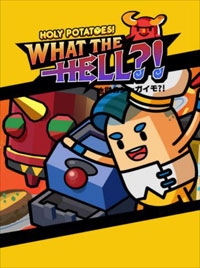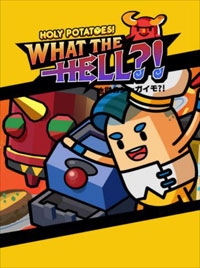 Holy Potatoes! What the Hell?!
Another game of the independent band Daylight Studios. This time we play the role of a cook who works in.... the other worlds inhabited by potatoes. We will sort sinners and extract ingredients for incredible dishes - everything to satisfy the hungry gods of the potato pantheon.
Simulation | fantasy | Economic | humorous | about cooking | indie games
Holy Potatoes! What the Hell?! is a crazy title that enables the players to take on the role of a cook in hell for potatoes. The game is part of the twisted and very diverse Holy Potatoes series! (Holy Potatoes! A Weapon Shop! and Holy Potatoes! We're in Space! ), and Daylight Studios, a company consistently developing the franchise, is responsible for its creation.
Story
The main character of Holy Potatoes! What the Hell?! is Sweeny Tots, a potato cook who goes to the other worlds - specifically hell - and tries to find out what happened in his previous life, as well as to get to heaven.
Mechanics
Gameplay in Holy Potatoes! What the Hell?! is hard to attribute to a single genre. The game starts with the creation and naming of a hero, followed by an intro evoking associations with an adventure game, during which we talk to several characters and learn about the story outline of the title.
The proper part of the game consists in viewing the profiles of specific potatoes and sorting them according to their sins: malice, pride, greed, and apathy. For example, potatoes with high malice stat should be directed to a deep fryer, while those who sin with pride should be cooked in a regular pot. For convenience, we observe our hellish kitchen from an isometric perspective, and everything is marked with four colors assigned to specific vices and kitchen appliances.
The components obtained in this way are thrown into the boiler. The cooking process goes hand in hand with the sorting of sinners. What is important, our task is to prepare specific dishes that the gods visiting us wish for. The time to prepare each order is limited by a patience bar. If we do well, we get the so-called Grace, which is needed to achieve the goals of the game and develop relationships with individual deities - this results in various kinds of passive bonuses, as well as the possibility of improving our kitchen equipment.
Game modes
Holy Potatoes! What the Hell?! features single-player mode only.
Technical aspects
Holy Potatoes! What the Hell?! features very simple but three-dimensional visuals with a characteristic cartoonish style.
Game mode: single player
PEGI rating Holy Potatoes! What the Hell?!
Holy Potatoes! What the Hell?! System requirements
Minimum:
Intel Pentium Dual Core 2.5 GHz / AMD Athlon 64 X2 3.0 GHz
4 GB RAM
graphic card 512 MB GeForce 9800 or better
3 GB HDD
Windows 7/8/10
Recommended:
Intel Core 2 Duo 2.3 GHz / AMD Phenom II X4 3.4 GHz
8 GB RAM
graphic card 1 GB GeForce GTX 560 or better
3 GB HDD
Windows 7/8/10