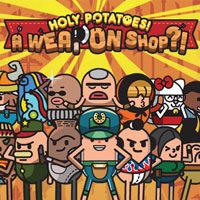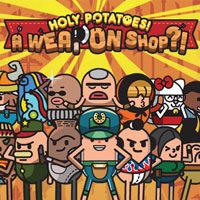 Holy Potatoes! A Weapon Shop?!
Simple simulation game with elements of economic strategy, in which the player's task is to manage the title gun shop.
Holy Potatoes! A Weapon Shop?!
Release Date
Holy Potatoes! A Weapon Shop! is a simple simulation game with elements of economic strategy, developed by the independent team at Daylight Studios; its publishing was taken of by Daedalic Entertainment.
Story
The action of Holy Potatoes! AWeapon Shop takes place in an original, fantasy world inhabited by animated potato. The player takes on the role of the manager of a gun shop handed over to him by his grandfather, which is connected both with the need to face various problems resulting from this type of activity and with the possibility of achieving more or less spectacular successes.
Mechanics
Events we take part in while playing Holy Potatoes! A Weapon Shop! are observed from isometric view. Our shop provides services for heroes who have to buy a specific weapon before embarking on their missions - during the game we have to serve more than seventy daredevils (among them there are ten figures known from modern pop culture), for whom we create more than two hundred types of weapons (including swords, axes, shurikens, and even guns and cannons).
Of course, we do not have immediate access to all types of weapon designs. In the course of the game we have to improve the skills of thirty blacksmiths employed by us, which enables us to carry out increasingly complex orders (including special orders, obtained from legendary heroes). As if that wasn't enough, it is also necessary to take care of the appropriate equipment for our workshop (later on it can be modified, increasing its capabilities). As you can easily guess, doing all this requires spending a certain amount of money that we earn through trade.
The random events in which we participate are also a certain variety. The game rewards us for exploring nooks and crannies of the game world (where we can find valuable materials, relics and spells). It is also worth earning the trust of the heroes, who from time to time share with us their extraordinary experiences.
Technical aspects
The visuals of Holy Potatoes! A Weapon Shop are an eye-catcher thanks to their cartoonish design. The strong point of the game is also the soundtrack composed by Kimura Masahiko - the author of the soundtracks for the Suikoden and Castlevania series.
Last updated on 09 March 2018
Game mode: single player
User score: 7,3 / 10 based on 39 votes.
PEGI rating Holy Potatoes! A Weapon Shop?!