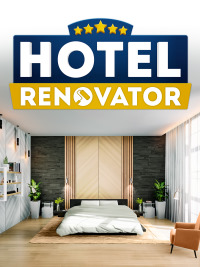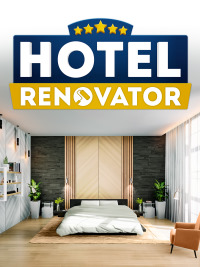 Hotel Renovator
An FPP simulation game, in which we're tasked to renovate an old hotel. Hotel Renovator lets us refresh every room of the centuries-old building, making it appealing to the visitors, and therefore profitable.
Simulation | FPP | Economic | construction | Polish
Hotel Renovator is a simulation game tasking us with, as the title suggests, renovating a hotel. It was developed by an independent Polish studio Two Horizons and published by Focus Entertainment.
Plot
In Hotel Renovator we play as an inheritor of a centuries-old hotel. Time hasn't been kind to this place, so we need to invest a lot of effort and resources to restore it to its former glory. We must therefore prepare our wallet, roll up our sleeves and get to work, to get the hotel to start earning for itself again rather than wasting away. The game also features a story mode, in which players desiring to learn more about the hotel's history help VIPs and discover its secrets.
Mechanics
The gameplay of Hotel Renovator is shown from the first-person perspective (FPP). The renovation begins with us wielding a hammer, crowbar and a broom, removing old furniture, ripping off wallpaper or tearing out damaged panels. Afterwards we must design the interior anew. It's up to us what style we'll choose; we can keep the building retro, modernize it or even let our imagination run wild and make the hotel funk-styled. There are more than 2,000 decor elements at our disposal, ranging from wallpapers, floor panels, lamps, furniture to curtains and carpets. The rooms alone aren't enough to make the hotel prestigious, so opening a restaurant or making a swimming pool is also worth considering. Nevertheless, we must keep the state of our bank account in mind while renovating; we'll often not have enough to afford some of our fancier (and expensive) ideas, at least not right away.
Customers don't give us five-star reviews for nothing, so we need to pay attention to their needs and implement necessary changes as soon as possible. We must also clean the rooms on a regular basis and make necessary repairs. With competent work, the hotel should soon start making a profit, letting us spend it on further upgrades.
Technical aspects
Hotel Renovator boasts high-quality visuals. The game features mod support, letting the players share their modifications among themselves.
Last updated on 03 March 2023
Game mode: single player
Age restrictions Hotel Renovator: Good for all ages.
Hotel Renovator System requirements
Minimum:
(30 fps / 1080p) Intel Core i3-4130 3.4 GHz / AMD FX-4300 X4 3.8 GHz
8 GB RAM
graphic card 4 GB GeForce GTX 750 Ti / Radeon RX 560 or better
60 GB HDD
Windows 10 64-bit
Recommended:
(60 fps / 1080p) Intel Core i7-6700K 4 GHz / AMD Ryzen 5 1500 X 3.5 GHz
16 GB RAM
graphic card 8 GB GeForce GTX 1070 Ti / Radeon RX 5700 or better
60 GB HDD
Windows 10 64-bit