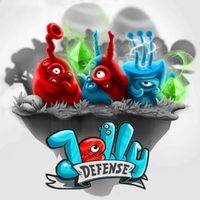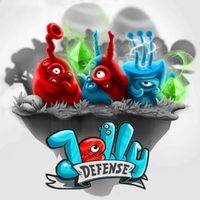 Jelly Defense
Classic representative of the tower defense genre, created and released by Infinite Dreams studio from Gliwice. In production we save the planet of Gels from a massive invasion of colorful aliens.
Strategy | tower defense | 2D | Polish
Jelly Defense, released on AND and iOS, is a two-dimensional tower defense strategy game. The game was developed by Infinite Dreams studio from Gliwice. The studio is known to players thanks to such titles as Can Takedown, Shoots the Birds, or Let's Create! Potter.
Plot
The action of the game is located on the planet Diploglobe, which survives the invasion of aliens. In the face of the threat, the player defends the titular Jelly, the inhabitants of the planet. The plot isn't that important, but the game's funny world effectively encourages you to take action. Jelly Defense offers a solo campaign divided into about twenty levels.
Mechanics
Jelly Defense progresses in a way characteristic of the genre - the map has paths used by the waves of enemies. We fight them by placing warriors in specified positions. The goal is to stop the opponents from looting all green crystals in our base. The fact that the invaders are divided into red and blue doesn't make the task easier. To win, we have to select the right units and use the right strategy. The player's task is to buy warriors, improve them and sell them in exchange for others.
The title is characterized by a high difficulty level. Thanks to the chests with coins and power-ups (including rain of meteorites, tornadoes and a temporary slowdown of all opponents), we have a slightly better chance of defeating the attacks of successive waves of aliens.
Technical aspects
The graphics in Jelly Defense look very impressive, despite the fact that this is a 2D product. The limited color palette helps us focus on the action, and funny animations make the gameplay addictive. The abstract soundtrack is the work of the Silesian band Hipki.
Game mode: single player
App size:
Age restrictions Jelly Defense: Good for all ages.