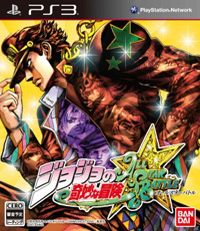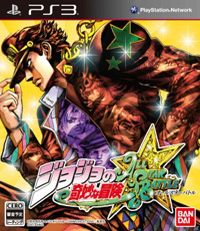 JoJo's Bizarre Adventure: All Star Battle
PS3
JoJo's Bizarre Adventure: All Star Battle is a skillful fight, which is an adaptation of JoJo's Bizarre Adventure series of manga comics created by Hirohiko Araki. Players can direct the actions of their favourite heroes in spectacular duels in interactive arenas.
Fighting | manga and anime | for 2 people | 2.5 D | PlayStation exclusive titles
JoJo's Bizarre Adventure: All Star Battle

Release Date PS3

29August2013
developer: CyberConnect2 publisher: Bandai Namco Entertainment

game language: Japanese
JoJo's Bizarre Adventure: All Star Battle is the result of cooperation between CyberConnect2 (known primarily from the Naruto Shippuden Ultimate Ninja series) and Namco-Bandai. The game is an adaptation of JoJo's Bizarre Adventure, a very popular comic manga series.
As befits an arcade brawl, during the game players can direct the actions of the selected hero. Among the playable characters there are over 30 heroes of the JoJo universe, including Jonathan Joestar, Dio Brando, Caesar Anthonio Zeppeli, Jotaro Kujo, Okuyasu Nijimura or Giorno Giovanna (some of them require unblocking). Their appearance and costumes can be modified thanks to the medals gained during the fights.
The game offers several variants of fun, including fictionalised story mode and campaign mode for online gameplay. In each case, the basis is the spectacular duels played in 12 arenas, which differ not only in their appearance, but also in the possibility of activating special events (Stage Gimmicks) and available finishers (Situation Finishes).
The clashes have a very dynamic character. Each of the heroes has been assigned one fighting style specifying which attacks, defenses and special skills they can use. The Guard Gauge and Heart Heat Gauge indicators are of key importance in the struggle. The first protects against enemy attacks, the second allows special attacks - Heart Heat Attacks or Great Heat Attacks. The creators were also tempted by several specific solutions such as Rush Mode (a mini-game activated when two fighting characters at the same time strike Rush type), Rumble Mode (angry attacks when the life factor of the character approaches zero) and Resolve Mode (armor protecting against enemy blows for a short time).
The visual setting of the game is maintained in the style of manga. Three-dimensional models of characters and objects in the environment are presented with the use of goal-shading technology. The competition in the arenas is often accompanied by short cartoon interludes.
Please let us know if you have any comments or suggestions regarding this description.
Last updated on 02 September 2013
Game mode: single / multiplayer Multiplayer mode: Internet
User score: 8 / 10 based on 31 votes.
PEGI rating JoJo's Bizarre Adventure: All Star Battle